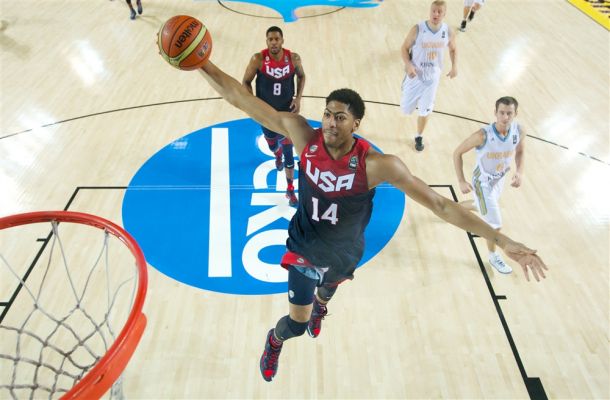 Both Ukraine and Team USA headed into the final game of the group stages of the 2014 FIBA World Cup on Thursday. USA came in with a perfect 4-0 record while Ukraine came in 2-2. USA held on to its perfect record as they cruised past Ukraine behind a dominating second quarter to win 95-71.
USA started the game off very slowly. They made their first field goal four minutes and 45 seconds into the game. Fortunately for them, Ukraine was not doing much scoring as well, allowing USA to stay close. USA shot an ice cold 6 for 18 from the field in the quarter. Ukraine was up 19-14 at the end of the first.
The second quarter was a different story. USA shot 9 for 16 in this quarter and scored 30 total points to Ukraine's 13. They held Ukraine to 28.5 percent shooting in the quarter and carried a 12-point lead into intermission.
The third quarter was dominated by James Harden for USA. He scored 10 of the team's 25 points in the quarter to put them up by 15. Team USA put the game out of reach in the fourth quarter, going up as much as 28 points. They outscored Ukraine by 9 in the final period to win by 24 points. Late in the quarter, however, Kyrie Irving took a hard fall, hurt his hip, left the game, and did not return.
Though, after the game, Irving tweeted that he is fine. "I'm all good everybody, just a tough fall. Appreciate the concern."
USA was led by James Harden's 17 points and 5 assists. USA had six players in double digit scoring. Stephen Curry pushed in 14 points while Anthony Davis had 12 points and snatched 6 boards. DeMarcus Cousins added 11 points. Kyrie Irving put up 11 points, dished out 6 assists, and came away with 4 steals. Kenneth Faried, arguably USA's best player through four games, had 10 points and 8 rebounds.
Slava Kravtsov was Ukraine's leading scorer with 15, followed by Eugene Jeter's 13. Jeter's 13 points came off of 16 shots, though. He has been Ukraine's best player, but was highly inefficient this game shooting just 31.2 percent from the field. Ihor Zaytsev chipped in with 11 points.
After shooting just 33.3 percent in the first quarter, USA shot 56.3 percent the rest of the way. USA took care of the ball considerably well this game, making only 10 errors. Ukraine, on the other hand, was forced to 19 giveaways. Fewer turnovers resulted into better ball movement by USA as they dished out 25 assists as a team compared to Ukraine's 8.
Once again, USA dominated another opponent in the paint. They scored 52 points in the painted area while Ukraine only had 20. Second chance points were also in USA's favor, 22 to 13.
Team USA will move on to the round of 16 and are already locked in to play Mexico in the first-round on Saturday, September 6th.
Ukraine will enter the round of 16 as well, and they will play on September 7 against either Lithuania or Australia. That has not been decided yet.