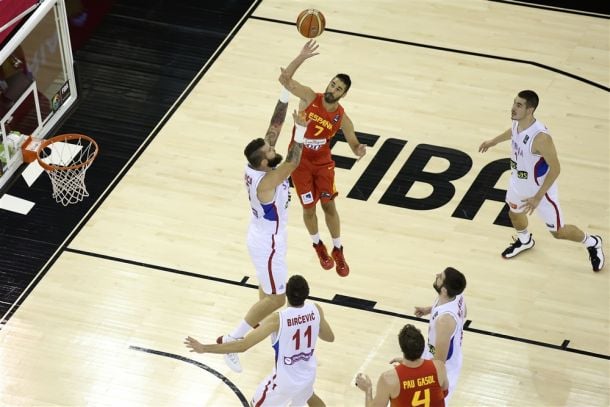 Spain was coming into the final game of the FIBA tournament with nothing to lose. They came in 4-0, number one in Group A and played Serbia, who came in 2-2. Spain ended up staying perfect by beating the Serbs 89-73.
Spain once again jumped on its opponent from the first quarter, shooting a sizzling hot 78.5 percent from the field, including 4-6 from three-point distance. Juan Carlos Navarro led them with 8 first quarter points. The Serbians were not too shabby either. They shot 50 percent from the field in the opening period. However, Spain captured a 34-20 lead at the end of the quarter.
The Serbs cooled down considerably in the second quarter, shooting 5 of 17 from the field. Spain dropped down to 46.6 percent shooting in this quarter but still outscored Serbia by 5 to take a 19-point lead into halftime.
During the third period, Spain extended its lead to 25 at one point, but Serbia did not give up. They kept clawing back into the game and cut Spain's lead down to 15 at the end of the quarter. Serbia did a lot of its damage in the paint during this quarter as they made 8 of 9 from that area.
In the fourth quarter, the Serbs kept on fighting. They sliced the lead down to 10 a couple of times but were unable to get any closer. Back-to-back scores for Spain – one by Ricky Rubio and one by Marc Gasol – pushed the lead back up to 14, and the Spaniards were ultimately able to close out the game from there on to win with a final score of 89-73.
Late in the fourth quarter, the game got a little chippy. At the 2:48 mark, Serbia's coach, Aleksander Dordevic, got hit with a technical after the referees rewarded Spain with the ball on an out of bounds play that was clearly off Rubio's foot. Moments later, Rubio got in the face of Bogdan Bogdanovic and got hit with a technical as well. Later, with 52 seconds remaining in the game, both team's coaches got into a bit of an argument mid court, resulting into a double technical. Serbia's coach already had one technical, so he was tossed from the game after receiving his second.
Spain was led once again by Pau Gasol, who scored 20 points. Navarro put in 15 points in just 18 minutes of play. Rubio filled up the stats sheet with 12 points, 6 assists, 4 rebounds, and 7 steals. However, he also had 7 turnovers.
Nemanja Bjelica led Serbia in scoring and rebounding with 19 and 10 respectively, followed by 13 points scored by Miroslav Raduljica. Milos Teodosic added 10 points.
The turnover numbers were the same for both teams with 18 apiece. Plenty of fouls were committed by both sides as well. The Serbs committed 28 fouls while Spain committed 26. Serbia's bench outscored Spain's 40 to 22. However, it came down to Spain's hot shooting from inside the three-point arc as they made 55.6 percent of their two-point field goals as opposed to Serbia's 42.2 percent.
Spain led all but two minutes of this game. As previously mentioned, their largest lead was 25. Serbia's largest lead was at 3 early in the game.
Spain will play Senegal during the first-round of the knockout stages on September 6. The game will be at 4 pm Eastern Time.
As for Serbia, they will clash with the Greeks in the first-round on September 7 at 12 pm Eastern Time.