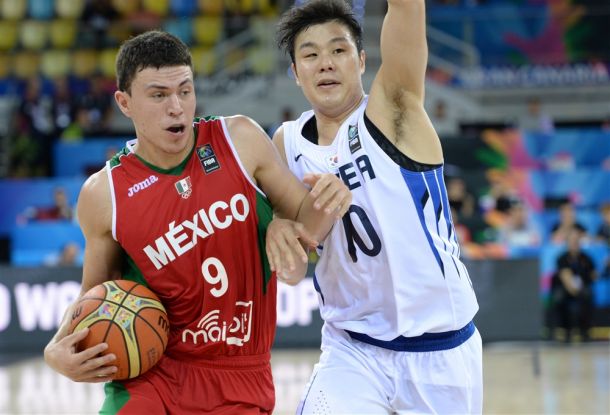 On Thursday, Mexico effortlessly beat Korea 87-71 to set up a round of 16 clash against USA. Hector Hernandez led Mexico with 16 points and 11 rebounds. Marco Ramos and Francisco Cruz chipped in 14 and 13 points respectively. Adrian Zamora and Jorge Gutierrez added 11 points each.
Taejong Moon scored 16 points for Korea. Sekeun Oh had 13 while Jongkyu Kim, Donggeun Yang, and Jonghyun Lee added 10 each. Each team had five of their players score in double figures.

Mexico started the game on a 4-0 run but Koreans struck back taking a two point lead. The scorecard read 11-9 in favor of Korea. Mexico then paced itself to a 9-0 run to end the quarter leading 18-11.

The Koreans started the second quarter on a 6-0 run cutting the lead to one point. Both teams kept firing back at each other for most of the first half. The scorecard read 30-28 in favor of Korea when all of a sudden the Mexicans exploded, going on a 12-0 run to lead 40-30 at halftime.

In the second half, the Mexicans showed no signs of mercy as they extended the lead to 17 using a 7-0 run. Koreans answered back with four straight points. Both teams kept answering back at each other for most of the third quarter. Mexico led 61-47 at the end of the period.

In the final quarter, Mexico's consistent play did not allow the Koreans to bounce back. Mexico won the game 87-71.

Mexico shot 51 percent from the field, including 45.5 percent from downtown. Korea shot 46.9 percent from the field but only 31.6 percent from beyond the arc. Mexico torched the smaller Korean team on the boards, grabbing 44 total rebounds, 20 of which were offensive. The Koreans were able to grab only 19 total rebounds.

Mexico will advance to play USA in pre-quarter finals of the knockout stages on September 6, while a winless Korean team will head home.