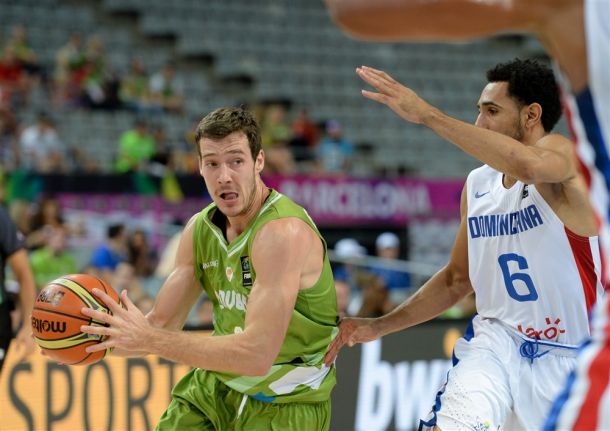 In the first-round of the knockout stages of the 2014 FIBA World Cup, Slovenia was matched up against Dominican Republic, where they handed the Dominicans a 10-point loss, led by the Dragic brothers.
The first quarter of the game was a back-and-forth affair between the two teams, resulting into a 15-15 tie. However, the second quarter is where Slovenia did most of its damage. They received even contribution from their players and outscored Dominican Republic by 10 to take a 38-28 lead into intermission.
The third quarter was owned by the Dragic brothers as they scored the team's first 13 points of the period. Despite an early outburst by the two brothers, Dominican Republic outscored Slovenia by four in the quarter, setting up a highly contested fourth quarter.
In the fourth and final period, Dominican Republic cut Slovenia's lead to two at the 6:16 mark off a three-point basket made by Ronald Ramon, but that is the closest they would get. Slovenia closed out the game on a 14-6 run to win by a final score of 71-61.
Zoran Dragic led Slovenia in scoring with 18. Goran Dragic followed with 12 points of his own and 6 assists. Francisco Garcia, the leading scorer for the Dominicans, had a quiet game, only managing to put up 7 points. James Feldeine was Dominican Republic's leading scorer with 18 points to go along with 8 rebounds.
Both teams turned the ball over 16 times and shot a low percentage from beyond the three-point arc. The Slovenians just shot slightly better from the field – 43.8 percent to the Dominicans 40.7 percent. Slovenia, however, did most of its destruction from inside the three-point arc, connecting on 57.9 percent of its two-point field goals. The Dominicans shot 47.6 percent from two-point range.
Slovenia will move forward in the knockout stages and will face an extremely tough USA team on September 9.