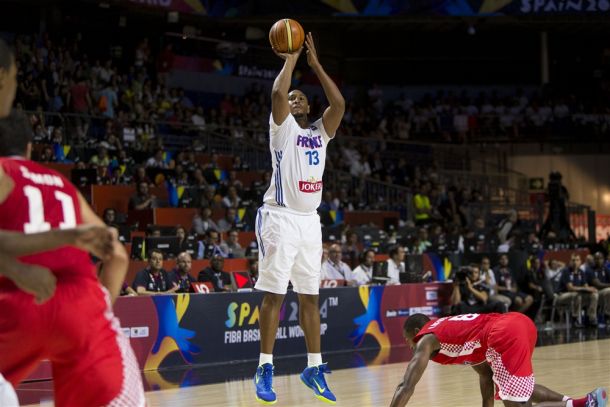 France's first game of the knockout round was less than stellar, but they found a way to pull it out and defeat Croatia 69-64 Saturday afternoon.
After scoring only seven points in the first quarter as opposed to Croatia's 15, France flipped the script in quarter number two and punched in 16 points to Croatia's seven. France's Nicolas Batum led the way with 14 points and four steals, helping the French ease their way back into the contest. Croatia's Bojan Bogdanovic had 27 for the game with three steals and also went 3-for-7 from behind the arc.
After halftime the French team set out to win the game and scored 23 in the third quarter, limiting Croatia to only 12 points. Ante Tomic was the second leading scorer for the Croatian team with 17 points, and for the French, Evan Fournier was a great sixth man coming in and scoring 13. The fourth quarter saw Croatia score 30 to France's 23. France hung on to win 69-64, even with 15 turnovers.
Poor shooting ruined Croatia's chances of stealing this game. Their 37.3 percent from the field was not enough to combat France's 44.6 percent. Also, Croatia's 6-for-25 shooting from three-point range could not keep away the French, who shot 7-for-22, good for 31.8 percent. France's five blocks also made an impact on Croatia, along with their 13 assists.
While Croatia is now out of the 2014 FIBA World Cup, France has now set up a rematch with Spain and will play Wednesday, September 10th in the quarterfinals.