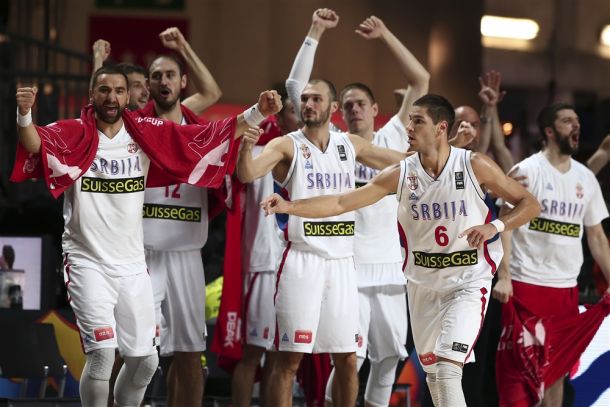 On Sunday, a heavily favored Greek team, who went undefeated during the group stages of the FIBA World Cup, was taken down by Serbia in the first-round of the knockout stages. Bogdan Bogdanovic and Miroslav Raduljica led Serbia with 21 and 16 points respectively. Bogdanovic shot 4-7 from beyond the arc. Milos Teodosic and Nikola Kalinic chipped in 13 and 12 more points for Serbia. For Greece, Nick Calathes and Georgios Printezis were the only two scoring in double digits. Calathes scored 14 and Printezis scored 12 points.
The game was an evenly played until halftime with Serbia outscoring Greece in each of the first two periods. The Serbs outscored the Greeks 23-20 in the first and 23-22 in the second quarter. Serbia had a four point lead going into the locker rooms.
The third quarter was a low scoring one with Greece scoring just 13 points. Serbia dropped in 18 points in this period. The Greeks were looking to make a comeback when they tied the game at 50 but just then the Serbs scored 5 straight points. They even ended the period on a 5-0 run and grew their lead to 64-55 at the end of the third quarter.
The fourth period started, and it was a back-and-forth battle for the first two minutes until the Serbs went a 12-0 run. They lead 80-60 with 4 minutes remaining, and that did it for Greece. They were unable to recover as Serbia closed out the game winning it by 18 points.
Serbia shot brilliantly today making 54.2 percent of its shots from the field and 52.9 percent from beyond the arc. Greece shot 48.4 percent from the field and 37.5 percent from downtown. Both teams grabbed 29 total rebounds. Greece turned the ball over 14 times as compared to Serbia's 10 giveaways.
Serbia will face the winner of Argentina and Brazil on September 10, while a disappointed Greek team will head home.