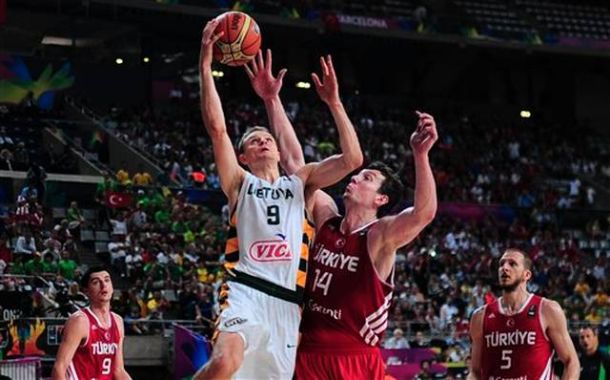 On Tuesday, Lithuania beat Turkey 73-61 to reach the semi-finals. Renaldas Seibutiz scored a game-high 19 points for Lithuania. Martynas Pocius, Jonas Valanciunas, and Ksistof Lavrinovic scored 13, 12, and 11 points respectively. For Turkey, Kerem Gonlum led them with 13 points. Omer Asik and Ender Arslan dropped in 11 and 12 more points respectively.
The game was low scoring in the first half. Turkey outscored Lithuania 18-13 in the first period. However, the Lithuanians came back strong in the second quarter outscoring Turkey 20-10 and headed towards the locker rooms with a five point lead.
The third period saw some competition. Lithuania started the second half draining a shot from three-point land. Turkey followed it up with a 12-0 run and lead 40-36. At the end of the quarter, the Lithuanians went on a 11-4 run to lead Turkey 47-44.
In the final period, Lithuania did not give Turkey much breathing space, outscoring them 26-17. Lithuania eventually won the game by 12 points.
Lithuania shot 43.6 percent from two-point range while Turkey made 50 percent of its shots from the same distance. However, Lithuania out shot Turkey from beyond the arc making 52.6 percent of its threes, while Turkey struggled and only made 16.7 percent of its shots from downtown. Lithuania lead Turkey in bench scoring 28-6. The Lithuanian bench was a key factor in their win over Turkey today.
Lithuania, the reigning bronze medalists, will meet the winner of the other quarter-finals match between USA and Slovenia, while Turkey will head home.