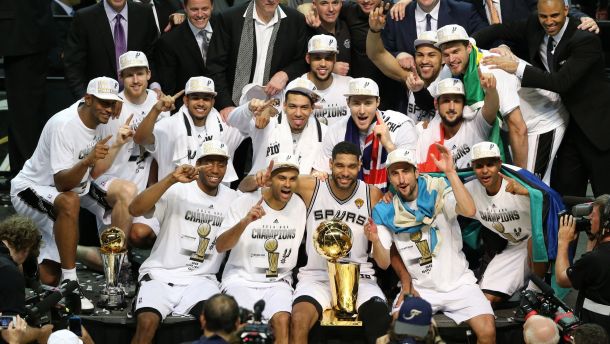 The defending champion San Antonio Spurs made sure that their roster stayed together this off-season by re-signing a few of their core players who were costless agents.
The most important of those players was Boris Diaw. The Spurs did not want to let the French forward sign elsewhere. Diaw was a huge part of the team's success last season due to his versatility on both ends of the floor. Additionally, Diaw was doing an excellent job of rebounding, finding teammates, and just making smart choices with the ball. Re-signing Boris Diaw was a must for the Spurs.
San Antonio also re-signed Patrick Mills, who was another key player from last season's run. Mills was a non-factor during the 2013 playoffs, but he worked hard last off-season to lose some weight and got into shape. Mills earned the backup point guard role, and he soon became an important piece for the Spurs championship run in 2014. In the championship clinching game against the Miami Heat, Mills nailed 5 three-pointers and totaled 17 points. He will continue to produce threes off the bench for the Spurs once he is able to fully recover from a recent shoulder injury.
Matt Bonner was another player they re-signed this summer. Bonner fell out of the rotation last season, but he adds extra depth to the Spurs frontcourt. When Bonner is on the floor in limited minutes, he provides adequate floor spacing and topnotch three-point shooting.
The Spurs off-season may not be over yet. They still have one more roster spot open and want to fill it with another big man. The Spurs have wanted to re-sign Aron Baynes but have been unable to reach an agreement with the Aussie big man. However, if they do not re-sign Baynes, San Antonio will certainly look to sign another center.
Nonetheless, the San Antonio Spurs have done a wonderful job of bringing back almost all their players from last year's championship team and should be able to compete for another title this season.
Grade: B
Depth Chart:
PG: Tony Parker/Patty Mills/Cory Joseph/Bryce Cotton
SG: Danny Green/Manu Ginobili/Marco Belinelli
SF: Kawhi Leonard/Kyle Anderson/Austin Daye/Josh Davis
PF: Tim Duncan/Boris Diaw/Jeff Ayres/JaMychal Green
C: Tiago Splitter/Matt Bonner
Coach: Gregg Popovich