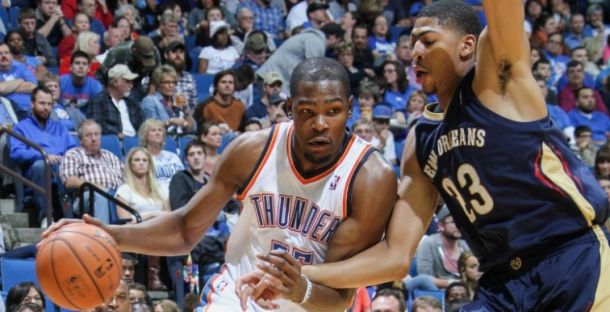 The 2014-2015 NBA season is approaching rapidly, and here are some predictions heading into the forthcoming season.
5. Anthony Davis will be labeled the best power forward in the league by the end of the season.
Blake Griffin, Kevin Love, LaMarcus Aldridge, Dirk Nowitzki, and Tim Duncan are some names that immediately pop up when talking about the best power forwards in the league. Though, this season, those names will dwindle because there will be a new power forward everyone will be talking about, and that will be New Orleans Pelicans 21-year-old phenomenon Anthony Davis. He already averaged 20 and 10 last season with nearly 3 blocks per game as well. This season, after another run with Team USA, Davis should come out with better leadership qualities and all-around play, and it will get to the point where he will be labeled the best power forward in the NBA by seasons end, as long as he remains healthy.
4. Chris Bosh will average 20 and 10.
The last time Chris Bosh averaged over 20 points and 10 rebounds was during the 2009-2010 season when he was a member of the Toronto Raptors. That was when he was 26 years old. Now, with the Miami Heat losing LeBron James, Bosh will drastically increase his numbers once again, despite being 30 years of age. Bosh was the most overlooked and underrated player during the big three era. He should now become the number one option on offense for Miami, since Dwyane Wade is continuously dealing with injuries and may take a backseat to Bosh.
3. Rajon Rondo will be traded.
This may not be too far-fetched since Rajon Rondo has already been mentioned in many trade rumors. With a crowded backcourt, the Boston Celtics may end up trading Rondo to make way for their rookie sensation Marcus Smart. Rondo is currently nursing a hand injury and will miss around six to eight weeks. With that being said, his trade value will drop, giving more teams the opportunity to engage the Celtics in trade talks.
2. Anthony Bennett will have a breakout season.
Anthony Bennett became the laughing stock of the NBA last season because he was unable to live up to the expectation of being the number one overall pick. In all fairness, Bennett was dealing with a couple of nagging injuries throughout the season and was stranded on a team with plenty of frontcourt depth. Now, with the young Minnesota Timberwolves, he should see an increase in minutes and will come into the season fully healthy with a lot to prove. Bennett may finally get the chance to show his full potential and could possibly average around 13-15 points, maybe more. Furthermore, he may be in running for the most improved player award.
1. Kevin Durant will win league's MVP again.
LeBron James is still labeled the best player in the NBA due to his incredible all-around play, but Kevin Durant has a really good chance of winning the MVP for a second straight season. James is on a team with a couple of other superstars, meaning he may not have to do too much. On the other hand, Durant will continue to put up insane scoring numbers and will likely place his team top three in a tough Western Conference once again. James will still put up excellent numbers but so will Durant. The difference is that Durant will be far more valuable to his team than James, and that is the whole point of the MVP award. It is still early to predict this award, but Durant should be frontrunner heading into the season.
The NBA season is 28 days away, and we are certainly in for a good one.