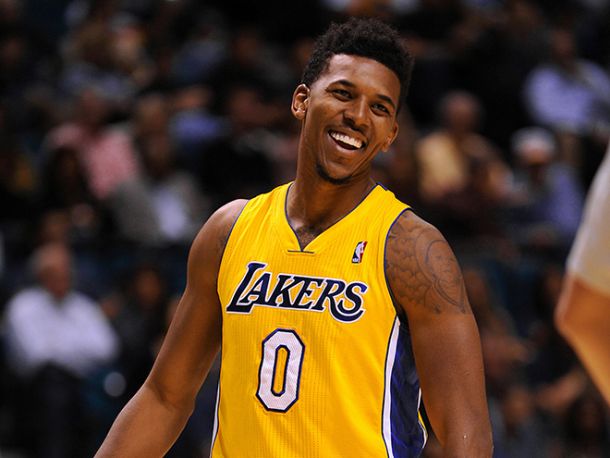 The regular season has yet to begin, and the Los Angeles Lakers injury plague has already started. Xavier Henry has yet to practice with the team due to back spasms. Ryan Kelly strained his hamstring a couple of days ago during practice and is out indefinitely. Now, Nick Young has torn the radial collateral ligament in his right thumb and will be out approximately 8 weeks, according to Mike Bresnahan of the Los Angeles Times.
Young sustained the injury while trying to steal the ball from Kobe Bryant, jamming it on Kobe's arm during practice. He immediately left practice to get an MRI.
This is a major blow for the Lakers. Nick Young was the leading scorer for the team off the bench last season, averaging a career best 17.9 points per game. He was a sixth man of the year candidate, and the Lakers are expecting the same production from Young this season. However, they will now be without their scoring swingman for about a month of the regular season.
Young figures to make a return sometime in December if his rehab goes as scheduled. Young's injury signifies that the Lakers may end up keeping Wayne Ellington on the roster for extra depth. Xavier Henry will also see major minutes during the season with Young sidelined.
There is still no word on the severity of Ryan Kelly's injury, but Los Angeles cannot afford to lose another key role player for an extended period of time. At the moment, the Lakers are optimistic that Kobe Bryant, who has been looking like his old self during practice, will do everything possible to carry the team.
Nick Young's injury certainly hurts, but, just like last season, the Los Angeles Lakers will have to do their best to withstand the injury bug.