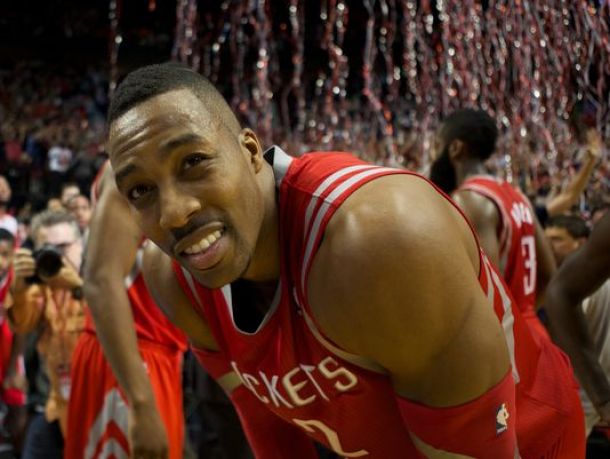 For two summers now, Hakeem Olajuwon has spent time working with Dwight Howard on his post game. Olajuwon recently addressed the Rockets' center's health and expectations for the season in a conversation with NBA.com's Fran Blinebury.
"I could see last year when I worked with him in camp that there were some things that he could not do," Olajuwon said. "Or they were things that he did not think he could do. The difference now is that he is fit and those doubts are gone. This is the player who can go back to being the best center in the league and the kind of player that can lead his team to a championship. I think he should be dominant at both ends of the floor."
"I played at a time when were so many players that could win the MVP each year — Michael Jordan, Larry Bird, Magic Johnson, Charles Barkley, Karl Malone," continued Olajuwon. "It meant you weren't going to win the MVP every year. But you had to play like an MVP and have your name in the conversation. I believe that's where Dwight is now. He is healthy. He is physically fit. He is strong. He wants to win.
"It is about attitude. He should have a season that makes everyone vote for him as MVP. If that happens, they should be contenders for the championship. I believe that. Now they have to believe it," Hakeem added.
In the 2012-13 season when he was a member of the Los Angeles Lakers, he had a back injury that kept him out of the lineup for some games. He was quickly criticized by Kobe Bryant and head coach Mike D'Antoni. Clearly that situation was not right for him, and another fair thing to say about his time in Los Angeles was he was afraid of the spotlight and the pressure, but the reduced pressure in Houston is something he would much rather prefer.
Dwight Howard has said in the past that he sees this Rockets team as championship contenders, and we all know that Dwight will have a lot to prove if he wishes his statement to be true. With Chandler Parsons, Jeremy Lin, and Omer Asik all gone, James Harden and Dwight Howard will need to play at an even higher level.
From a talent perspective, that has never been an issue for Dwight as he has almost always been known as the best big man in the game. Now that he has James Harden on his side, the Rockets big man has all the potential to have a great season and if he can play like his old self from when he was on the Orlando Magic, it will be enough to put him in the MVP conversation, but he probably won't end up winning the trophy. So can we expect to see the Dwight Howard of Orlando? We have to wait and find out.