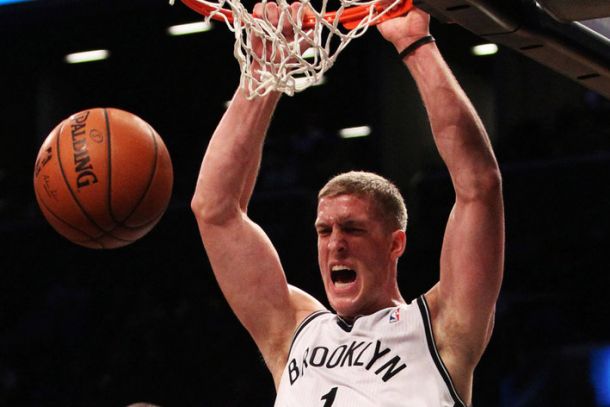 The Brooklyn Nets defeat the Philadelphia Sixers with a major contribution by Mason Plumlee.
A double-double for Mason Plumlee would help the Nets secure a 99-88 victory over the Sixers. With 30 minutes of action, Plumlee finished the night with 20 points and 17 rebounds. He lead all scorers. Henry Sims led the way for the Sixers with 13.
Philadelphia were without Michael Carter-Williams, Joel Embiid, and Nerlens Noel. For Brooklyn, Kevin Garnett and Brook Lopez sat out. Garnett missed his third straight preseason game with a stomach virus.
Despite not having three of their main players, the Sixers were able to keep it a close game. At the end of the first quarter, they trailed by only five points. Brooklyn turned the ball seven times, while Philadelphia had three turnovers. Having played nine players during the first quarter, the Nets had eight guys who contributed with at least two points.
By halftime, the Nets had a 49-42 lead. The Sixers struggled to protect the paint as they allowed 24 inside points, while they had 14 of their own coming from the paint.
By the 7:43 mark of the third quarter, Philly went on a 10-1 run and would be down by only three points. The Sixers continued to climb back and with 4:42 minutes left in the quarter, they took a 61-60 lead. That would be their first lead since early in the first quarter. Brooklyn went ice cold and could not buy a shot at the time.
With 39 second left in the 3rd quarter, Alan Anderson nailed a three pointer and tied the game at 67. With a few seconds left to end the quarter, Jerome Jordan got hacked in the paint and would go to the line for two shots. He made one and missed one. Brooklyn took a 68-67 lead entering the fourth.
Deron Williams and Joe Johnson sat out the fourth quarter. Williams finished with 27 minutes and Johnson with 23. At the 8:09 mark, Mirza Teletovic nailed back to back three's, giving the Nets a 84-77 lead. Mason Plumlee would then continue to showcase his skills and Philadelphia just could not stop him. The Nets went on to top the Sixers and earn their fourth win of the preseason.

Brooklyn's next game will be against the Boston Celtics on October 21. The Sixers next game will be against the Detroit Pistons on October 23.