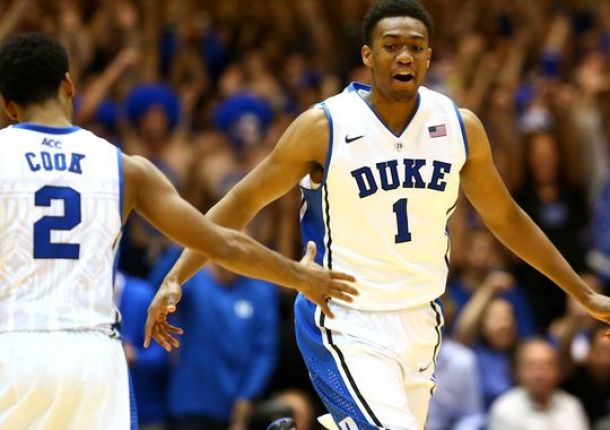 The 2014 NBA draft is arguably one of the best in years. This is a very talented draft class, but the rookie who stands out the most is Jabari Parker. He was the second overall pick in the draft and is the frontrunner to win the Rookie of the Year.
What makes Jabari such a good player is, at 6-foot-8, he can handle the ball well, has an inside game, an outside game, and can get to the costless throw line. With all these tools, this makes him an effective player, and his success in the NBA will soon be determined.
The Milwaukee Bucks will be a nice, young, exciting team to look next year. Jabari Parker will be very effective in the transition game given his speed, agility, and his ability to run the floor adequately. If the Bucks want to go small, they can play him as a stretch four. This is something Jason Kidd has been working on since training camp. With his athleticism, this makes Jabari a threat right from the get-go.
He has some terrific, young pieces to compliment him. Giannis Antetokounmpo, a 6'11" forward with good ball handling skills and, despite his height, could play at the point guard position, should have a breakout year. The Bucks also have a young point guard in Brandon Knight, who is just settling into his role after being traded from Detroit to Milwaukee and is a streaky shooter.
The best competition for Jabari is Minnesota Timberwolves' newly acquired wing player Andrew Wiggins. Wiggins has incredible leaping abilities, so expect to see him on Sports Center in the mornings but, at the same time, Wiggins needs to prove that he is a consistent jump shooter because the defenses will pay close attention to him and force him to shoot contested jumpers.
In Parker, the Bucks have a franchise player, and he is someone management will look to build around for the next few years. Knowing his personality, Parker could attract other players to team up with him in the future. Soon enough, Parker will carry the Bucks to the playoffs. Jason Kidd has experience playing small forwards at the four. He did it with Paul Pierce in Brooklyn when Brook Lopez went down, so Parker should be able to flourish under head coach Jason Kidd.
Despite being his first year in the league, it won't be surprising if Parker leads the Bucks in scoring and rebounding. His game is very similar to Carmelo Anthony's. With Wiggins in Minnesota, who has yet to earn the trust of head coach Flip Saunders ,and Julius Randle playing alongside Kobe, who is back and will be taking the majority of the shots for L.A., there is no reason why Jabari Parker cannot be Rookie of the Year.