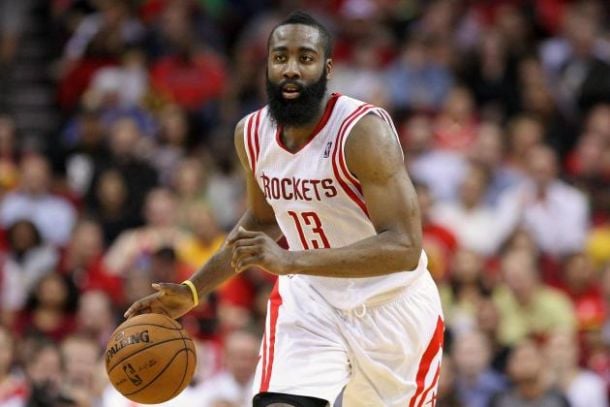 The Rockets would play this game without Dwight Howard, while the Spurs were without Kawhi Leonard and Tiago Splitter. All of them would sit out due to rest.
Danny Green got off to a good start as he would convert a four-point play early in the first quarter and end it with nine points. Turnovers would then begin to hurt San Antonio as Houston went on a 13-4 run at the end of the first quarter. The Rockets finished it with five steals and took a 24-19 lead over the Spurs.
San Antonio was able to tie the game at 27 during the 8:42 mark of the second quarter. Near the end of the quarter, however, Houston would go on a 14-2 run and end the first half with a 49-32 lead.
Patrick Beverley lead all scorers at the half with 10. Trevor Ariza contributed with nine. Green was the high man for San Antonio with nine as well. James Harden went 2-of-9 from the floor and finished the first half with five points. Tony Parker and Tim Duncan also had their troubles as they went 1-4 and had only two points each. Manu Ginobili had three points on 1-7 shooting.
After having scored only 13 points in the second quarter, the Spurs were able to come back stronger. They outscored Houston in the third quarter 30-27, but with much help from Harden, the Rockets were able to hold a 76-62 lead. Harden exploded for 20 points on 7-for-9 shooting in the third.
During the first two minutes of the final quarter, both teams struggles to get a field goal up. By the 6:03 mark, San Antonio went on a 9-2 run to cut the Rockets lead to seven. With 1:38 left in the game, Austin Daye was able to knock down a three pointer to reduce the lead to just three. Isaiah Canaan would then take over and respond with back to back threes to close out the game and secure the win for Houston.
The Spurs finished the night shooting 30 percent from the three-point line. Rockets ended with 42 percent. Harden was the game's highest scorer with 25. Marco Belinelli led the Spurs in points with 19. Duncan achieved a double-double with 11 points and 10 rebounds. Parker was two points shy from a double-double as well, as he finished the night with eight points and 10 assists.
The Rockets will start the season on October 28 against the Los Angeles Lakers. The Spurs will also have their season opener that day as they take on the Dallas Mavericks.