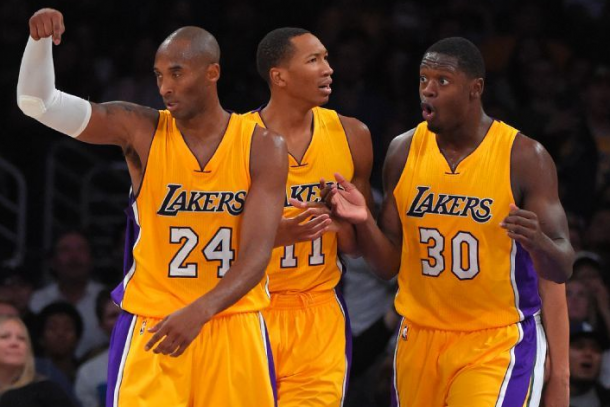 The Los Angeles Lakers are coming off one of the worst seasons in franchise history having gone 27-55, finishing 14th in the Western Conference. The Lakers struggled with injuries all year long. Kobe Bryant missed 76 games, Steve Nash missed 67 games, Xavier Henry missed 41 games, Steve Blake missed 27 games, Pau Gasol missed 22 games, Nick Young missed 18 games, Jodie Meeks missed five, and Wesley Johnson missed three.
There was actually one game against the Cleveland Cavaliers where the Lakers had only one player on their bench, and he was fouled out. In fact, in that game, one of the players on the floor was fouled out as well, but the Lakers were unable to substitute him out because they had no one left on the bench.
Aside from injuries dismantling the team, the Lakers were one of the worst defensive teams last season. They were ranked 29th in opponents points per game, allowing 109.2 points. They were also ranked 26th in opponents field goal percent, allowing them to shoot 46.8 percent.
The Lakers were, however, one of the best three-point shooting teams, ranking third in the league as they knocked down 38.1 percent of their threes. The downside was that they would attempt too many threes. They were tied for sixth place in three-point attempts, shooting 24.8 threes per game.
Rebounding was another issue. They ranked 25th in rebounding, averaging 41.0 rebounds per game. Last year's Lakers team was a mess to say the least. They struggled in almost every category and found themselves with the sixth worst record in the entire league.
This year, the Lakers look to bounce back. The first order of business for them this offseason was the coaching dilemma with Mike D'Antoni. He wanted the Lakers to pick up his 2015-2016 team option, but the Lakers refused to do so, leading to D'Antoni's resigning. The Lakers kept their coaching position void for three months.
In the meantime, they worked on their roster. The Lakers drafted Julius Randle with the seventh overall pick and made a draft day deal with the Washington Wizards to acquire Jordan Clarkson, the 44th overall pick. They started costless agency by re-signing both Jordan Hill and Nick Young and trading for Jeremy Lin. Afterward, they re-signed Wesley Johnson and Xavier Henry and signed big man Ed Davis. They also claimed Carlos Boozer off amnesty waivers and late in the off-season, signed Ronnie Price and Wayne Ellington.
The key pieces that the Lakers lost this offseason were Pau Gasol, Jodie Meeks, Kent Bazemore, MarShon Brooks, Chris Kaman, Jordan Farmar, and Kendall Marshall.
On July 28, the team hired Byron Scott as their new head coach and added Mark Madsen, Jim Eyen, Paul Pressey, and Larry Lewis to the staff.
Coming into the 2014-2015 NBA season, the Los Angeles Lakers are still dealing with injuries. They recently announced that Steve Nash is going to be out for the entire season. Also, Nick Young will be out for a few more weeks, and Xavier Henry, Ryan Kelly, Ronnie Price, and Wayne Ellington are dealing with their own minor injuries.
However, the whole city of Los Angeles is anxiously waiting for Kobe Bryant's return to the regular season. Kobe is recovering from two major injuries, and he looked fantastic during the preseason, but the biggest question is if he can lead this team to the playoffs. The Lakers are going to go as far as Bryant could take them, and it doesn't look like he has enough talent surrounding him.
The likely starters for the Lakers throughout the season should be Jeremy Lin, Kobe Bryant, Wesley Johnson, Carlos Boozer, and Jordan Hill. Off the bench will come Ronnie Price, Xavier Henry, Nick Young, Julius Randle, and Ed Davis. Robert Sacre, Jordan Clarkson, Ryan Kelly, and Wayne Ellington will be needed for extra depth. It is likely that the Lakers do stick with a 10-man rotation once the team is fully healthy (whenever that'll be).
During the preseason, young guys such as Julius Randle, Ed Davis, and Jordan Clarkson were impressive. The key for them will be to remain consistent and confident. Jeremy Lin showed flashes of the Linsanity days during the preseason and could be a number two scoring option on the team while Boozer becomes a third scoring option. Jordan Hill could very easily become a double-double guy, but his offensive inconsistency is still worrisome.
The main thing is for the Lakers to stay healthy. They seem to be an exciting team to look but need a full roster to remain competitive in a tough Western Conference.
As far as the new coaching system goes, one thing for sure is that the team will stop jacking up threes. Byron Scott wants the team to attack the basket more and settle for higher percentage shots so expect the team to shoot around 10-12 threes a game. In addition, Scott holds every player accountable and preaches defense.
Nonetheless, this is going to be another long season for the Los Angeles Lakers. They are in a tough conference with limited talent on the roster. The team's biggest hope is that Kobe remains healthy throughout the season but, as hard as it is to count out Kobe Bryant and the Lakers, this team is not destined to land a playoff spot. They may end up as the 12th seed in the Western Conference with around 33 wins.
Like Kobe Bryant said, this team will have to be a smashmouth, physical team on a nightly basis if they want to get the job well done, but it's no easy task.