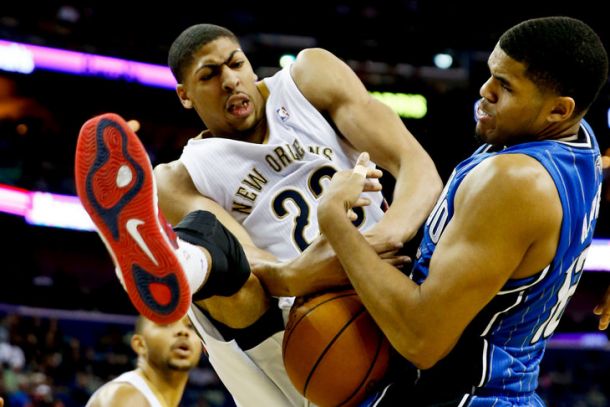 The Pelicans defeated the Orlando Magic 101-84 in their season home opener. The game was fairly close throughout until the end of the third where the Pelicans took over. It was obvious it was the first game of the season with both teams struggling to run sets at times but that's normal.
The Pelicans could have won by a lot more, but they shot an abysmal 48% at the costless throw line going 15-31 on the night. Whilst the Magic shot a respectable 76% converting 16-21 from the charity strike. The Pelicans were aggressive on defence all night and turned turnovers into points more often than not with 27 points of turnovers compared to the 9 of the Magic.
Anthony Davis was one block away from a triple double scoring 26 points, grabbing 17 rebounds and 9 blocks to go with his 3 steals on the night. A monster night for the promising star in the league. His Front court partners also has impressive nights with newly acquired center Omer Asik pulling down 17 rebounds as well, blocking 5 shots and scoring 14 points on the night. Ryan Anderson who stretched the Pelicans lead at the end of the third hitting 3 straight 3's ended the night on 22 points with 9 Rebounds and 7 coming on the offensive set.
The Pelicans guards didn't contribute much on the offensive end but were pests on the defensive end with Eric Gordon 2 steals and 2 blocks and Jrue holiday getting 3 steal and one block. These two only combined for 16 points but played excellent defence.
Nikola Vucevic has a huge game on the Boards which was something I pointed out in my preview of the game. He ended with 23 rebounds, 4 Blocks and 15 points, He proved to be more than a man on a mission when going after the rebound. Tobias Harris led the Magic in scoring totalling out at 25 on the night.
It was a good showing from both teams but the talent of the Pelicans shown them through to the end getting them their first win of the year.