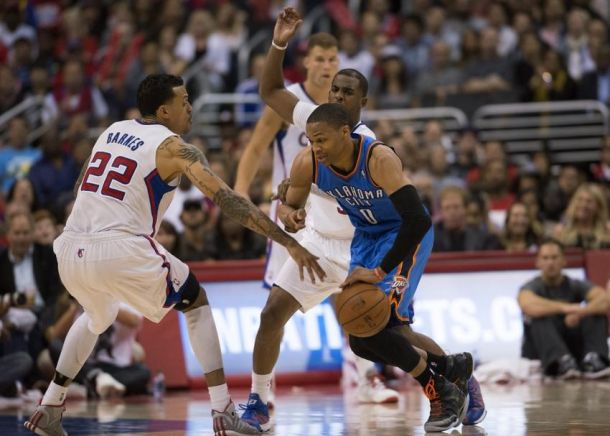 The Los Angeles Clippers finally open up their season against the Kevin Durant-less Oklahoma City Thunder. The Clippers have had an extended rest as they haven't played for six days. The Thunder, meanwhile, is playing the second of a back to back.
Wednesday night against the Portland Trail Blazers, Russell Westbrook was the heart and soul of his team. He put in 38 points and six assists in 33 minutes. He is going to have to repeat that performance again if this team wants to have a chance against a well-rested Clipper team.
Certainly, these two teams have some bad blood for each, mainly Serge Ibaka and Blake Griffin. We are going to see some physical, ground and pound game between those two. Steven Adams is another physical force and may irritate DeAndre Jordan with his rough play.
However, the most intriguing matchup is going to be the point guard matchup. We know that Russell Westbrook is going to be in attack mode, but we don't know which Chris Paul is going to show up – a passive Paul or an aggressive Paul? Whatever the case, it's going to be an exciting showdown between the two.
Chris Paull will need to make Westbrook work on the defensive end, though. He cannot allow Westbrook to save his energy for the offensive end. Griffin cannot back down from Ibaka either. He will need to be aggressive in the mid-post and try to get Ibaka in foul trouble.
The Thunder is really shorthanded, and that's what hurt them last night. It should be interesting to see how Scott Brooks manages his players' minutes if they continue to remain undermanned in this game. With the possibility of Jeremy Lamb, Anthony Morrow, Kevin Durant, and Reggie Jackson being out, the Thunder may have to continue to attack the rim since they have limited shooters on their roster at the moment.
On the other end, the Thunder will have to be aware of Clippers' dribble penetration, three-point shooting, and, of course, alley-oop plays. This is the end of the floor where the Thunder has to win the game because Westbrook could only score so much, just like Wednesday night where Westbrook's scoring wasn't enough.
This will be a highly contested, physical battle and could go down the stretch. It will be a fun matchup.