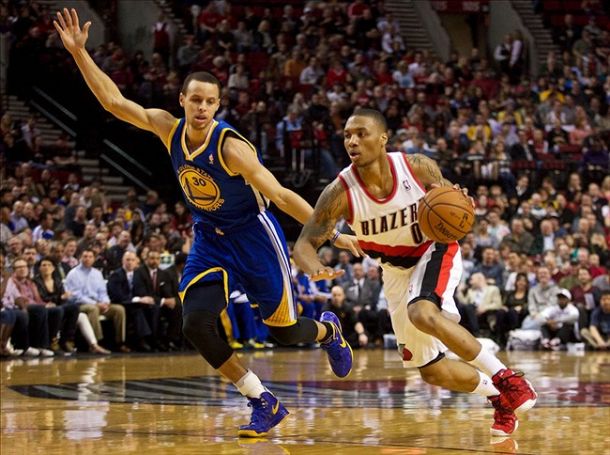 Following a tough loss to the Sacramento Kings, the Blazers tried to get their second win of the season in a Sunday night matchup versus the Warriors. Golden State, on the other hand, looked to stay undefeated even without forward David Lee.
Coming off a 41 point game against the Lakers, Klay Thompson started off hot once again, scoring 15 of Golden State's 30 first quarter points. He cooled down throughout the night, ending with only 29 points off of 3 threes and 50 percent shooting.
While the Warriors made most of their shots, the Blazers were stuck taking ill-advised shots and found themselves down eight after just one quarter. Aldridge and Lillard made just two of their nine shots in the quarter, and no one was picking up the slack.
Portland fell even further behind, and it wasn't until the hard play from Lopez, Matthews, and Robinson midway through the second where they started coming back. Within a few minutes, the Blazers were only down one, and it was a close game again.
Thanks to strong bench play, they managed to only be down three points going into halftime. To start off the second, Portland's starters kicked it into gear and began making some shots.
The game bounced back and forth for much of the second half until late in the fourth when it began to sway in Golden State's favor. The Blazers had a two-point lead with less than a minute to go but because of poor execution and bad play, they lost by five in what could've been their second victory.
The Splash Brothers were the Warriors main contributors, scoring 50 of the teams 95 and hitting a combined 4 threes. With David Lee still out, Draymond Green got the start but didn't produce. In 29 minutes, he went 2-7 for five points and grabbed six rebounds. He did, however, keep Aldridge in check on the defensive end for nearly three quarters.
Leandro Barbosa had a big night, knocking down 5-of-9 and putting up 13 points in only 16 minutes.
On Portland's side, LaMarcus managed to get his shot back after a slow start, finishing with 26 points and 13 rebounds. Lillard had yet another bad shooting game, going 4-18 from the field. It seems as though he hasn't found his rhythm yet this season and if the Blazers want to beat teams of the Warriors caliber, he needs to find it.
Robin Lopez and Thomas Robinson had big games, although it may not be reflected on the stat sheet. They were responsible for the spark that led to Portland's second quarter run and played tough defense throughout the entire game. Lopez ended with 12 points and 10 rebounds, recording his second double-double in three games.
The Blazers will look to go 2-2 in their game Tuesday against LeBron and the Cleveland Cavaliers. Golden State will try to stay undefeated when they play the Los Angeles Clippers.
Top Performers:
| | | |
| --- | --- | --- |
| | Warriors | Blazers |
| Points | Thompson-29 | Aldridge-26 |
| Rebounds | Bogut-12 | Aldridge-13 |
| Assists | Curry-6 | Lillard-5 |
| Steals | Thompson-3 | Batum-2 |
| Blocks | Ezeli-3 | Aldridge-1 |