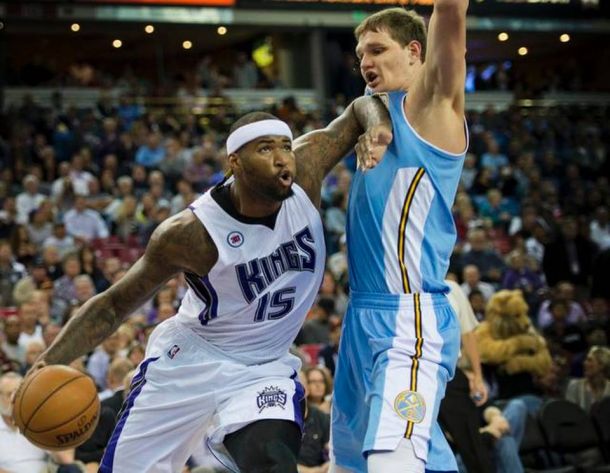 DeMarcus Cousins chipped in 30 points and 11 rebounds in 22 minutes, and Rudy Gay chipped in 29 points as the Sacramento Kings defeated the Denver Nuggets 131-109.
DeMarcus Cousins was on fire in Wednesday night's matchup, only having to play 22 minutes on the night. The Kings stand at 4-1 now and have a really drastic change in look as a team. Compared to last season, their team ball is looking great and even their team defense has improved. This isn't a team to be taken lightly.
Randy Foye led the Nuggets with 19 points, and Wilson Chandler and Ty Lawson both chipped in 13.
The Kings have 2 wins over the Nuggets, which isn't the powerhouse fast team that we saw a couple of years ago, but in the NBA 2 wins in the same week over the same team should be cherished. The Kings may just possibly be a surprise team this year. Rudy Gay has been played efficiently and solid, and DeMarcus Cousins has played phenomenal. The key for Gay is to keep playing efficiently. When he scores 20 shooting around 50%, that's when the Kings are at their best.
The Kings will go on to start a 4-game road trip, starting off against the Suns on Friday evening.