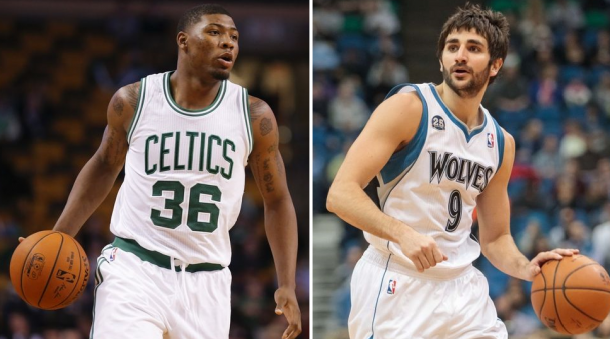 Marcus Smart and Ricky Rubio left their respective games on Friday night with severe ankle sprains. Smart was taken off the court on a stretcher after rolling his ankle on a drive to the rim. Rubio sprained his ankle on a drive to the rim as well. He was helped off the court by his teammates.
After having an MRI, Marcus Smart is expected to miss 2-3 weeks with a left ankle sprain along with bone bruising. Ricky Rubio's MRI reveals a significant left ankle sprain, and he will be out indefinitely.
Smart, the sixth overall pick during the 2014 NBA draft, has been averaging 6.8 points, 2.6 rebounds, 1.2 assists, and 1.2 steals on 30.6 percent shooting from the field in five games. Thankfully, the rookie does not have to be out for too long.
Rubio, meanwhile, in his fourth year with the Minnesota Timberwolves, has been averaging 9.4 points, 10.0 assists, 5.6 rebounds, and 1.2 steals per game on 42.6 percent shooting. He has been slightly improving his offensive game and has become the leader of the team.
In Rubio's absence, Mo Williams will fill in as the starting point guard. With Smart sidelined, Phil Pressey may see some time on the floor. It is a tough loss for both teams, especially for the Timberwolves since Rubio is their starting point guard.
Both the Timberwolves and Boston Celtics are back in action Saturday night and will play their first games without their injured point guards.