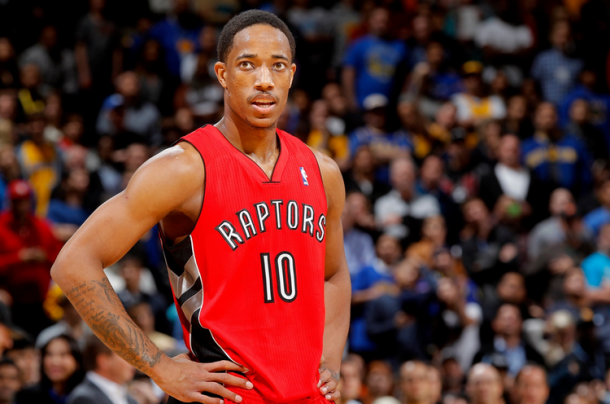 The Toronto Raptors proved tonight that it's not how you start, but it's how you finish that counts.
The Raptors took down the Orlando Magic by a final tally of 104-100 in a game where the home team got off to a slow start.
Orlando came out of the locker rooms on fire, and it showed in the first half. The Magic found their rhythm early from behind the arc as they knocked down 7 threes and were able to capitalize in transition against a sluggish Raptors defense. Channing Frye led the charge for Orlando in the half with 16 points. However, DeMar DeRozan helped keep his team in the game with 11 points going into half time trailing by a score of 51-60.
To begin the second half the Magic kept on trucking along. Tobias Harris scored a quick nine points for Orlando to prevent Toronto's comeback effort. Every time the Raptors went on a miniature run to narrow the deficit in the third quarter, the Magic answered with a run of their own.
At the start of the fourth quarter, the Raptors were down 11, but Lou Williams lived up to his streaky shooting tendencies with a quick six points that were part of a 11-0 run, which tied the game for Toronto. Going forward, the Magic and Raptors exchanged baskets until the final minutes of the contest. Toronto made five crucial costless throws late in the game, and Harris missed a 10-foot jumper at the last second to complete the Raptors comeback performance.
Evan Fournier led the Magic in scoring with 23 points, and Harris' 13 rebounds were a team-high. As for the Raptors, a balance in scoring was the recipe for success tonight. DeRozan had 16 points, while Kyle Lowry led the Raptors with 19 points and seven assists.
The Magic now have a record of 3-6 and continue their current road trip with a visit to Madison Square Garden to take on Carmelo Anthony and the New York Knicks.
The Raptors, who now sport a 7-1 record, will faze the Chicago Bulls at home on Friday. Toronto will look to sustain their hot streak against the Bulls' physical defense. With Derrick Rose having returned from injury, the Raptors should have their hands full in Friday's contest.