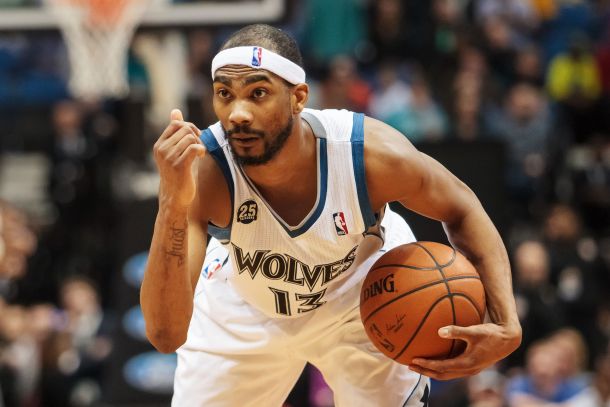 The rebuilding Minnesota Timberwolves are looking to unload veteran swingman Corey Brewer and are currently in talks with multiple contending teams that are interested. The Houston Rockets and Cleveland Cavaliers have emerged as frontrunners for Brewer, according to ESPN's Marc Stein.
Both the Cavaliers and Rockets own a trade exception that would give them the ability to absorb Brewer's $4.7 million contract. Brewer has a year, plus a player option remaining on his current contract and would be intrigued by the idea of playing on a contending team.
The Cavaliers and Rockets could both definitely use his athleticism and ability to leak out for fast break points off the bench. Last season, Brewer averaged 12.3 points on 48.1 percent shooting in 81 games played. Due to the Wolves' wing positions being crowded, Brewer's minutes and production have dropped this season.
The Timberwolves would not ask for too much in return. Since the Cavs and Rockets own a trade exception that they could use to acquire Brewer, either of those two could throw in draft picks to sweeten the deal.
Brewer has ties with the Cavaliers and Rockets. In Cleveland, he will be teammates with Kevin Love once again, as the two have a great relationship. In Houston, Brewer will be reunited with Kevin McHale, who drafted Brewer when he was the General Manager of the Timberwolves in 2007.
The Rockets have had interest in the seven-year veteran before and would like to add bench depth to their very thin second unit.
If the Timberwolves are able to execute a trade involving Brewer, they may be able to give Anthony Bennett and rookie Andrew Wiggins more minutes to establish themselves.
It won't be a surprise if Corey Brewer is dealt in the coming weeks as the Timberwolves continue to gear up for the future.