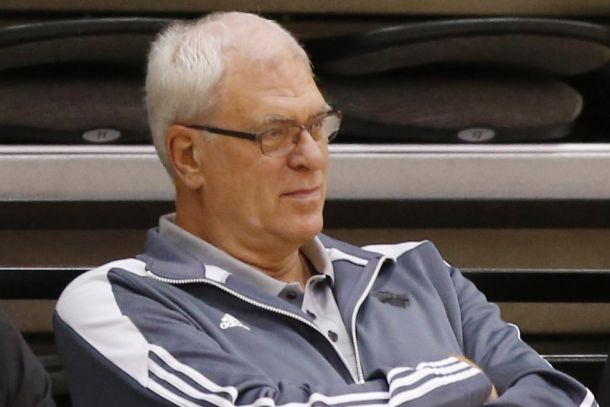 The logic goes something like this: You can't rebuild in NY, ticket prices are too high and New Yorkers are too impatient. No one will come to look the games, so trading expiring contracts for big money costless agents is better than building from the ground up.

Ask any Knicks fan how logical this method has proven to be for the organization since Patrick Ewing was traded in 2000, and you'll get a different answer. Knicks fans have looked for years as draft picks and young talent have been sacrificed again and again for big name stars that have flopped when they came to Broadway.
Antonio McDyess cost the Knicks Marcus Camby, Mark Jackson, and the seventh overall pick before he promptly got hurt and played all of 18 games for the club. Jalen Rose cost the team another first rounder. The Stephon Marbury trade gave away two more first round picks. Toss in the Eddy Curry debacle, (a 1st rounder, 2 second round picks and the right to swap another first), and the Steve Francis deal (Trevor Ariza), and the team traded six first round picks and three second rounders in four years from 2002-2006. In case you blocked it out, (a valid response to the product NY put on the court), the team averaged 28 wins a year from 2004-2008.

There have been no shortage of lost picks in the years since, but the biggest purge of all was the Carmelo Anthony trade. The Knicks had a star player that wanted to play for them and the cap space to sign him in the offseason, but Jimmy Dolan couldn't stop himself from usurping Donnie Walsh, so they traded the farm for Carmelo instead of signing him four months later for cash. The deal that brought Melo to New York sent Wilson Chandler and Danillo Gallinari (both 1st round picks for the Knicks), along with Timofey Mozgov and another future first and two seconds to Denver, and destroyed Walsh's plan to build a foundation of home grown players to surround their superstar with.
Now, with the Knicks having invested $125 million in Anthony over the next five years, and the team having lost eight of their last nine games, all of which Melo admits he has played with pain in his left knee, and most importantly, the Knicks actually owning their first round pick in the upcoming 2015 draft, it's time for the rebuilding to begin.
It is no secret Jackson is looking to overhaul the roster this offseason. The first-year President has worked to protect the cap space Andrea Bargnani and Amar'e Stoudemire's expiring contracts will create this summer, so he can pursue a big name costless agent to pair with Carmelo Anthony. But as Knicks fans saw firsthand when LeBron James chose Miami over NY in 2010, having cap space doesn't guarantee you will be able to sign the player you want.

Phil Jackson has to recognize that this season is all but lost already. Only three teams in the league own a record worse than New York's. Tonight's game in Minnesota features one of them, but anyone who has looked NY play this season knows they are no better than the rebuilding Timberwolves. Are they really supposed to be? The roster is being torn down, remember? If Anthony plays and isn't hampered by the knee, the Knicks should have enough firepower to win the game, and the next one against the winless Sixers on Saturday. But to what benefit?
The Knicks need Anthony in uniform if they hope to prevent another losing streak, but should they be risking Anthony's health at all? The Knicks will already be without projected starting point guard Jose Calderon and former number one overall pick Andrea Bargnani, neither of whom has played for the team yet this season. Backup point guard Pablo Prigioni has missed time this season due to injury as well, all of this contributing to the club's 3-9 start.
Rookie draft pick Cleanthony Early, who underwent arthroscopic knee surgery yesterday, is out indefinitely and will be evaluated in a month and could be out longer. Bargnani has been practicing, and it is hoped he will return for the Sixers game, but having missed most of preseason and the team's first month of regular season games in the Triangle offense, will he help or hurt? Neither Bargnani nor Calderon are known for their defensive abilities, which is something this team needs desperately. No announcement has been made on Calderon's timetable.
But even if they get Bargnani and Calderon back and Anthony's knee gets better despite the rigors of the NBA schedule, every win the Knicks scratch out this season will only lower their odds of grabbing a franchise player in the draft. Bargnani will be gone next year and the Knicks are hoping Mark Gasol will replace him. Soon, the question will become should the Knicks play Anthony this year, or should they protect him for the long term?
Sometimes you have to take a step back to take two steps forward. Sitting Anthony down and making sure he doesn't play and do permanent damage to his knee, while simultaneously killing their lottery chances by helping the team eke out a few more wins, might be the only hope the Knicks have. Playing a team focused on the players who will be a part of the future, giving them as much experience as possible in the system, and continuing to lose at the current pace does more good all-around than mudding through another 35 win season and further burning Melo's legs.
The Knicks used to play for championships, but lately they have settled for celebrating first round playoff wins withers and confetti. This team has no chance of winning anything that used to be considered a goal worthy of a franchise as storied as the Knickerbockers.
Phil Jackson has said he will be able to start making judgments on player's futures by the holidays. Thanksgiving is a week away and the time is here. Going into next season with a healthy Carmelo Anthony, a top five draft pick and a big time costless agent signee would be the gift New York has been wishing for.
Will the rebuilding finally take place, or is that too much to wish for this holiday season?