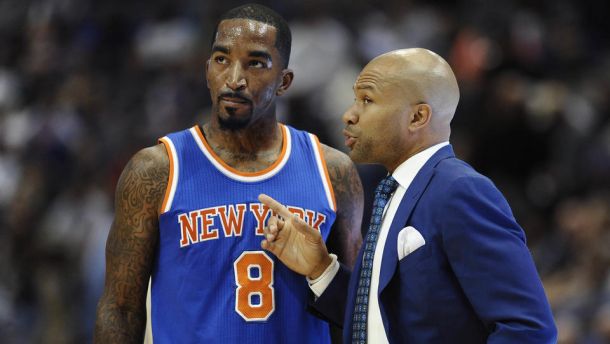 Under Phil Jackson's Zen-induced regime, basketball has witnessed what are arguably two of the best duos to play the game - Michael Jordan and Scottie Pippen, and Kobe Bryant and Shaquille O'Neal. As if you needed to be reminded, the forward/guard combo won all six of Jackson's Chicago Bulls championships in extraordinary fashion - two three peats from 1991-1993 and the second from 1996-1998. Bryant and O'Neal also delivered three-peat blows to their opponents, with Jackson's Los Angeles Lakers from 2000-2002. Needless to say, with Phil Jackson controlling the reins, these duos were a force to be reckoned with.
What does this have to do with the New York Knicks you ask? Well, everything. Though Jackson may not be running the show directly (yeah, right), he has yet another superstar in his grasp, one who begs for transformation into the champion he deserves to be. That's right, Carmelo Anthony. Don't confuse this for a comparison, as even Jackson himself has addressed the rarity of once-in-a-lifetime players like Jordan and Bryant. The point is simply this: What the Bulls and Lakers of their respective championship eras had was TWO superstars - a second scoring option if you will, someone who is going to pick up the slack when one is down and significantly contribute on a consistent basis. Granted, Carmelo Anthony's arrival in New York was determined to be a godsend, as he would be the missing piece Amar'e Stoudemire needed. The addition of big man Tyson Chandler would surely make them contenders, but this hopeful fate was shattered - along with Stoudemire's injury-prone knees.
Essentially, Carmelo Anthony is a one man show, and the Knicks' 2013-2014 season demonstrates this "put-the-team-on-his-back" nature, as he delivered the best statistical performance of his entire career. Yet, the Knickerbockers still managed to fall short of a playoff appearance, ranking ninth behind the eight seeded Atlanta Hawks.
So who would be the next plausible option for this heavily needed second scorer? Many believed it to be the reckless, but undeniably skilled guard J.R. Smith. Many still do, based on his freakish athleticism and marksmanship. Though his shot I.Q. is merely subpar, and he averages below 40 percent from the three-point line, Smith has also demonstrated extremely timely hooping. He has indeed lived and died by the three, but the life he has breathed into the game is nothing short of memorable.
On December 26, 2012, after a victory over the Phoenix Suns, a headline read: "J.R. Smith lifts depleted Knicks over Suns at buzzer." With both Carmelo Anthony and Raymond Felton out with injuries, it was Smith who hit two jumpers in the final seconds of the game to lead the Knicks to a victory over the Phoenix Suns; one was a fadeaway shot to tie the game at 97 and the second was the game winner, at the buzzer of course. Smith called it a "premeditated" victory, as he willed the shot to go in before the play resumed. Jason Kidd, who inbounded the ball to Smith with a second left in the game, said that Smith "loves that moment," but we'll get back to that a bit later. Smith finished the game with 27 points and emerged not just the hero, but the leader of the game.
Here's another walk down memory lane for you. In March of 2013, the Knicks took on the Oklahoma City Thunder, led by the dominant Kevin Durant and Russell Westbrook duo (Hmm, a duo you say?). As Carmelo Anthony sat out, J.R. Smith led the team with 33 points; though he shot 1-of-5 from three-point territory in the final quarter. Clearly, he was aware that his in-the-moment recklessness might have cost them the game, admitting he should have drove to the basket, which he is certainly adept at doing. Ultimately, the Knicks lost a close 95-94, as Smith failed to make a very familiar game-winning shot. However, he was able to regain his former prowess, as he rose to the occasion, scoring 22 points, nicely complimenting Anthony's 36, in a victory during the Knicks and Thunder rematch on April 7.
Okay, okay just one more: Here's a stat for you.
In the Knicks' 101-91 victory over the Cleveland Cavaliers, Carmelo Anthony was able to sit out the entire fourth quarter, as J.R. Smith scored 31 points on 81 percent shooting - an impeccable shooting performance and an exhibition of star qualities.
By now, you have noticed that all of these examples have been pulled from the 2012-2013 season, the same season the Knicks cruised to the second round of the playoffs, and the year Smith was awarded the honor of Sixth Man. There is a method to the madness. To say Smith lacks the talent or abilities to be the Knicks' 'Dark Knight' would be an ignorant argument to partake in. However, to argue his statistical inconsistencies and often immature antics would be an intelligent route to take.
Before the current season began, President Phil Jackson compared J.R. Smith to the infamous Dennis Rodman, who holds five championship rings. Keep in mind that Dennis Rodman is heavily known for his defensive efforts - the comparison does clearly not lie within their skill sets. The comparison refers to their very eccentric personalities. As we all know Smith's on-and-off the court antics have gotten him in trouble more times than the Knicks' franchise, including their fans. Some of many examples would be his undoing shoelaces shenanigans and a drug suspension that excluded his presence for the first five games of the 2013-2014 season. Not the greatest comparison obviously, though Smith was still honored to even be mentioned in the same sentence. However, Jackson made it clear he's not sold on Smith, who is arguably the most beloved and simultaneously the most hated Knick on the current roster. A Kanye West lyric comes to mind. "First they love you, then they hate you, then they love you again."
Phil Jackson said, "...I'm gonna get to know him as we go along, and we'll find a way to either make him a very useful player on our organization, or whatever." Let those words "or whatever" just simmer for a bit. As Jackson has gotten to know him thus far, J.R. Smith has averaged 10.5 points, 2.5 rebounds, and 3.7 assists - not very "valuable," especially if his intentions are to remain a Knick through the end of this season. Jackson has made it abundantly clear that everyone aside from Carmelo Anthony is trade bait. This aside, many of the Smith believers rekindled their dying fire during last Sunday's matinee victory over the Denver Nuggets, snapping their dismal seven-game losing streak. Smith, who started for the first time this season, scored 28 points alongside Anthony on 62.5 percent shooting. There was plenty of speculation regarding who should start at the shooting guard position during the preseason, and that night it appeared that Smith was the right man for the job. The glimmer of the former sixth man gone starter showed its face. Unfortunately, all hopes of a new and renewed Smith died slowly in a loss the following Tuesday night against the Milwaukee Bucks, when Smith only had nine points on 3-of-12 shooting. The inconsistencies continue to remain and "whatever" for his future as a Knick seems to be the more likely end result.
Whether Smith should start or come off the bench is no longer the argument. It is whether or not he can stand alongside Carmelo Anthony or be a leader for this group when Anthony is resting on the bench. It is an argument of whether Smith's talents can conform to the tactical nature of the triangle offense. It is whether or not Smith will be a Knick by the end of this season. Both Jackson and protégé Derek Fisher have preached that this new offensive system requires patience, but J.R. Smith's role on this team does not require patience to define. Remember what Kidd said? Smith thrives when the pressure is on him, the final moments, the final shot. Knicks fans are exhausted by close games of catch-up and possible buzzer beaters. If this team ever expects to win a championship, they need a scorer who will encapsulate the qualities of a leader and team player, consistency and efficiency, and heart. All directions are pointing to the end of the road for Smith in orange and blue, but the answers are yet to come and Smith, who never fails to entertain and surprise, may just shock you.