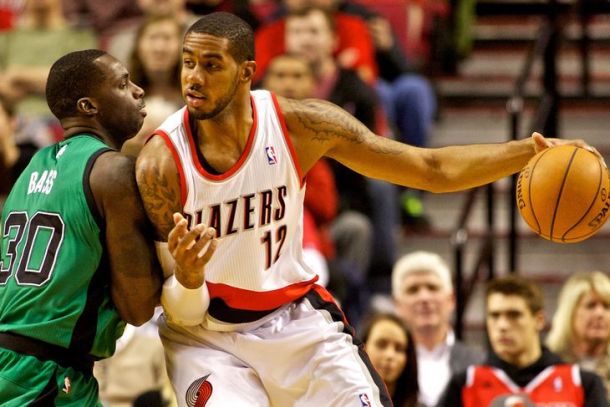 The Portland Trail Blazers extended their league-best win streak tonight against the Celtics, winning 94-88. The Blazers are now 10-3, with a league best 7 game winning streak.
The Blazers struggled in the first quarter, going 1 for 8 on their first 9 attempts, and finishing the quarter shooting just 30%. Both Damian Lillard and LaMarcus Aldridge could not find their shots early in the game. Robin Lopez was the key for the Blazers offense in the first quarter. The Celtics were out to a comfortable lead going into the second.
In the second quarter, the Blazers picked up their game, finding an offensive spark in their bench, before falling behind again. The Blazer bench has been a huge help for them this season, with the additions of Steve Blake and Chris Kaman.
The second half of thye game was a completely different story for the Blazers. While the Celtics kept up their first half play, which was by no means above average, the Blazers started to find openings in the Celtic defense. LaMarcus Aldridge found his shot, as well as Damian Lillard and Steve Blake. The Blazer's big men started to rebound the ball much better, and the team worked as a whole much better. The Celtics weren't able to elevate their game, and they game the Blazers their first lead of the night.
In the fourth quarter, the Blazers started to make their signiture shot, the three pointer, a game changer. The Blazers took a 7 point lead with less then 2 minutes left to play in the game, and the Celtics found it within themselves to fight back. The Blazers were able to hold on in the final minute, capitalizing on the Celtics' mistakes.
This game leaves the Blazers gunning for a higher seed in the Western conference, with a 10-3 record, and an eight game winning streak, while it leaves the Celtics at a dismal 4-8.
Player of the game:
Steve Blake
Pts: 11
Reb: 2
Ast: 5
Other notes: Although LaMarcus Aldridge clearly played the best for the Blazers, they wouldnt have come close to winning without Steve Blake, who provided a much needed offensive spark off of the bench, as well as setting up his teammates throughout the game.