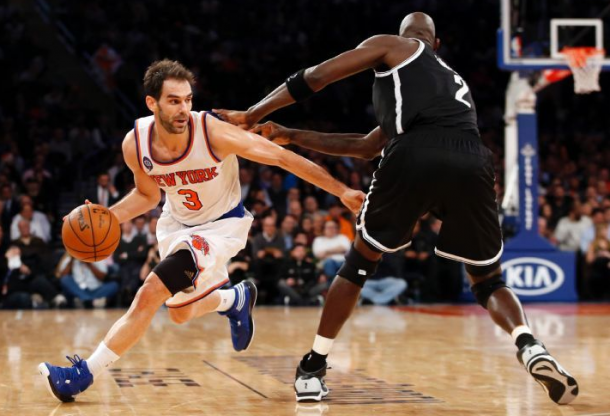 When the New York Knicks welcomed their cross city rivals, the Brooklyn Nets, to the Madison Square Garden for the first time this season, they were looking up at Brooklyn in the standings. After watching Brooklyn walk off the Garden floor victorious, surrendering their home floor to yet another sub-.500 team, the view got a little wider.
Joe Johnson, Brook Lopez, and Deron Williams combined for 64 points to lead Brooklyn to their second win over the Knicks this year. Brooklyn watched a 17-point lead crumble in the fourth quarter before pulling out the victory in the final minute. The Knicks dropped their fifth straight contest and 13 out of their last 15, falling to 4-15 on the no-longer-young season.
Carmelo Anthony led the way for the Knicks with 20 points, but struggled from the field, hitting just 7-of-22 FG attempts and missing 6-of-7 three pointers, including two questionable looks in the final minute.
Jose Calderon dropped 19 along with seven assists, and Amar'e Stoudamire added 17 and nine boards in just his third start of the season. The Knicks were without J.R. Smith, as he continued to battle flu-like symptoms, and Tim Hardaway Jr. continued to struggle despite the available minutes, going 1-for-7 from the field for two points.
The Knicks face a difficult stretch in the next eight days with games against LeBron James and the Cavs, followed by Charlotte, Portland, New Orleans, and San Antonio. With the way the Knicks have struggled to score and defend, they could be staring at a 10-game losing streak and 4-20 record. At this point, the only thing the Knicks could have in their favor is the draft pick they will receive for their futility.
Knick Thoughts:
Andrea Bargnani, who has yet to play this season, sat out again. Bargnani continues to recover from a calf strain sustained last week in practice prior to his expected return from a hamstring injury. Cleanthony Early continues to recover from his November knee surgery, but an updated timetable for his return has not been announced.