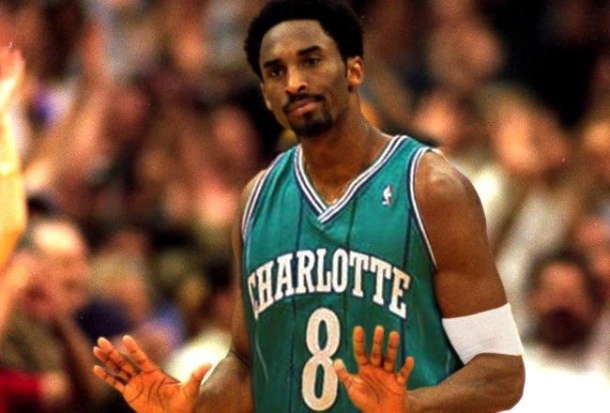 Yours truly has always taken an interest in past drafts. Something this writer loves to do is to look back on years gone by and see where some of my favourite players were picked that year and if they were able to live up to expectations. Another enjoyable part of looking into past drafts is looking at a player, in this piece for example Kobe Bryant, and wondering what became of the players picked before. When you look at Kobe Bryant's accomplishments you would no doubt associate him with a number one, if not top three pick in the draft. Surely someone could have seen his potential? That's why the draft can be so interesting. No one ever knows the full story until it is played out. With Kobe Bryant recently passing Michael Jordan for third place in all time scoring, we were curious to look back at this draft.
In 1996, what many consider the deepest draft in history in terms of talent, Kobe Bryant was selected 13th overall by the Charlotte Hornets. Charlotte would trade the pick to the Los Angeles Lakers for then Center Vlade Divac, and the rest is history. In this piece I chose to look back and run down the careers of the twelve men taken before the future Hall of Famer.
Flashback to 1996 -
With the Number One pick in the NBA Draft, the Philadelphia 76ers select –
Allen Iverson – Point Guard/Shooting Guard - Georgetown
Career Accomplishments – NBA Most Valuable Player (2001), 11 All Star Appearances, 2 time All Star Game MVP (2001, 2005), 3 time All NBA First Team (2000, 2002, 2003), 1997 Rookie of the Year, 4 Time NBA Scoring Champion ( 1999, 2001, 2002, 2005), 3 Time NBA Leader in Steals (2001, 2002, 2003), Jersey #3 Retired by the Philadelphia 76ers
When you think of Allen Iverson, three things spring to mind. The famous crossover of Michael Jordan, the famous crossover/step over jump shot on Tyronn Lue in Game 1 of the 2001 Finals and finally, 'we talkin 'bout practice.' In some ways that sums up Iverson's career. A phenomenal talent who had a huge personality and was sometimes his own worst enemy.
Having garnered a horrific 18-64 record the year prior, this was the 76ers' worst season in franchise history since 1972 as they finished rock bottom of the Eastern Conference. The Sixers had been on a steady decline since the departure of All Star Forward Charles Barkley, leading to several forgettable years in franchise history. Having won the draft lottery, they would hope to turn their fortunes around and once again select a cornerstone to build around. Allen Iverson would turn out to be that cornerstone. Having already selected a bright prospect in Jerry Stackhouse who was drafted the previous year, Philadelphia would now be looking to build towards the future.
Having used a laundry list of Point Guards since 1989, the Sixers needed stability at that spot. At Georgetown, Iverson had led the Big East in points and steals with 25 and 3 per game respectively. The first guard selected number one overall since Magic Johnson, there was a lot of pressure to live up to and Iverson certainly delivered. In his rookie year with the Sixers, Iverson averaged 23 points per game along with 7 assists and was named Rookie of the Year. With their new point guard leading the way, the Sixers would see their record improve each year, finally making it back in to the playoffs in the 1998-1999 season.
Following off court problems with then coach Larry Brown, a reoccurring theme throughout his career which in later years would lead to the infamous practice rant, A.I frequently found himself in trade negotiations. After a failed attempt at a trade to the Detroit Pistons in 2000, Brown and Iverson agreed to settle their issues and make a run at the NBA title. Voted the MVP in 2001 and averaging an incredible 31.1 points per game, Iverson led the Sixers to the top of the Eastern Conference with a 56-26 record. After scoring 48 points and nailing the previously mentioned crossover/jump shot over Tyronn Lue in the process, game one of the Finals was a classic (and one of this author's personal favourite games ever) win for the Sixers. However they would not win again and fell 4-1 to the defending champion Los Angeles Lakers.
The years to come would prove to be frustrating. With several coaches coming in to take over from the departed Larry Brown with varying success. Iverson would continue to produce at an All Star level. Again, off court issues with coaching staff would then lead to further trade talks and eventually a trade to the Denver Nuggets was agreed upon. After two seasons with in Denver, A.I would leave for the Detroit Pistons before signing in Memphis for the Grizzlies. It would seem A.I's ego would get in the way of him finding a stable role in any of these three teams as he refused to come off the bench at times and in the end walked away from Memphis due to his reduced bench role after just three games. A return to his former team in Philadelphia in the 2009-2010 season was cut short due to personal issues with his daughter's health, eventually signing to play for Turkish team Besiktas in 2010. After rumors of a comeback and declining an offer to play in the NBA D-League for the Texas Legends, Allen Iverson called it a career and officially retired from the game of basketball last year. Allen Iverson was a pleasure to look and when he was on there was no one better. His famous number 3 jersey hangs in the rafters of the Wells Fargo Arena and will remain there for years to come.
With the second pick, the Toronto Raptors select –
Marcus Camby – Center - University of Massachusetts
Career Accomplishments – NBA Defensive Player of the Year (2007), 2 time All NBA Defensive First Team (2007-2008), 4 time NBA Blocks Leader (1998, 2006, 2007, 2008), 1996 College Player of the Year
Known for his defensive presence, Marcus Camby had some solid years in the NBA before becoming somewhat of a sporadically used role player for the last few seasons due to injury issues. At the time, many analysts had Camby as the ideal number one pick in this draft. After a promising rookie year where he was selected to the All-Rookie first team, the Raptors traded Camby to the New York Knicks in 1998 for Charles Oakley. With an injury to star center Patrick Ewing during that year's playoffs, Marcus Camby became a key player in the famous 'cinderella story' in where the 1998-1999 New York Knicks were the first 8th Seed team to reach the NBA Finals before losing to the San Antonio Spurs.
A trade to the Denver Nuggets in 2002 saw Camby team up with Carmelo Anthony and fellow draft class member Allen Iverson, leading to career highs in minutes, rebounds, costless throw percentage and also the Defensive Player of the Year trophy over the six year span with the team. Despite his efforts, the Nuggets failed to get out of the first round of the playoffs in any of Camby's years there. A falling out in Denver, in which Camby thought he was the 'scapegoat' for the Nuggets post season short comings, saw Camby dealt to the Los Angeles Clippers before the 2009 season began. After forming a partnership down low with Zach Randolph, he was then dealt again to Portland. However at this point, niggling foot injuries were catching up with the former Defensive Player of the Year and he played limited games with the Blazers before finishing his latest stints in a bench role with Houston and the Knicks again respectively. Camby was waived by the Houston Rockets in October 2013 and now at age 40, it is unlikely we will see him back in the league.
With the third pick in the 1996 NBA Draft, the Vancouver Grizzlies select –
Shareef Abdur Rahim – Power Forward – California –
Career Accomplishments – NBA All Star (2002), Olympic Gold Medal (Team USA, 2000)
With an abundance of Small Forwards, the Grizzlies added a much needed inside presence in Rahim. A solid rebounder and versatile player, Rahim averaged 18.7 points and 6.9 rebounds per game his rookie season, finishing third in Rookie of the Year votes. With the help of 1998 draft pick Mike Bibby, Rahim would continue his solid production over the next few seasons averaging over 20 points per game his first four years as a Grizzly. However the Vancouver continued to find themselves bottom of the conference with several coaches taking over during Rahim's time with the struggling franchise. Traded to the Atlanta Hawks in 2001, he became the fifth youngest player in NBA history to reach 10,000 points. Over the three year run with the Hawks, Rahim formed a formidable partnership with Jason Terry however they failed to make the playoffs, leading to major changes within the Hawks franchise. Known for his work rate and reliability night in-night out up until this point of his career, Rahim was traded to the Portland Trail Blazers in 2004 but would only play in 86 games over his two year stay due to injuries.
As a costless agent, the Sacramento Kings would sign Rahim and ultimately end the unflattering and perhaps undeserving record held as the player with the most games played without a playoff appearance, as the Kings made the post season in 2006. A knee injury forced Shareef to retire in 2008 after a very productive and much over-looked career. He is now working with the Kings in a back office role helping the franchise get back to the post season once again.
With the 4th pick in the NBA Draft, the Milwaukee Bucks select –
Stephon Marbury – Point Guard – Georgia Tech –(*Marbury was immediately traded to the Minnesota Timberwolves for the draft rights to Ray Allen)
Career Accomplishments – 2 time NBA All Star (2001, 2003)
The man known as 'Starbury' has had his fair share of headlines over the years. Joining future Hall of Famer Kevin Garnett in Minnesota, Marbury averaged 15.8 points and 7.8 assists his rookie year. The partnership took the Timberwolves to the post season for the first time in franchise history before being swept by the Houston Rockets 3-0 in the first round. A native of Brooklyn, it was rumoured Marbury wanted out of Minnesota due to feeling home sick. Although never proven, rumors swirled that Kevin Garnett's role of the franchise player did not sit well with Marbury as he saw himself as deserving of that role. Whatever the case may be, the troubled point guard would find himself traded to the New Jersey Nets. It was closer to home that 'Starbury' would shine, becoming an NBA All Star in 2001 and even making the game winning shot. Despite setting a career high 23.9 points per game that same year, the Nets did not make the playoffs and missed the post season every year Marbury was there. The Nets would go on to deal him to the Suns in a blockbuster trade for Jason Kidd.
It was in Phoenix that Marbury would see the post season again, teaming with stars Amare Stoudemire and Shawn Marion but were unable to get out of the first round losing to San Antonio in 6 games. With Steve Nash becoming a costless agent at the end of the 2004 season, the Suns needed to costless up cap space to sign the star point guard. Stephon Marbury was again moved, this time to the New York Knicks. A Knicks fan since he was a kid, the move seemed like a perfect fit.
The 2005-2006 season would see Knicks coach Larry Brown butt heads with his star point guard on numerous occasions, with Marbury and Brown both sharing disparaging remarks in public about each other. Marbury claimed he was being held back on the offensive end while Brown stated that Stephon was immature and would not take responsibility for both his own and the team's poor performances. The Knicks finished the year with a 23-59 record and Brown was replaced by Isiah Thomas as head coach. Under Thomas, Marbury struggled again in an awful Knicks team, leading to him being taken out of the starting line-up. This led to a confrontation between the two, with rumors of punches thrown. With $42 million remaining on Marbury's contract and being virtually untradeable, Thomas was shown the door. After being bought out by the Knicks, Marbury would play a few games with the Celtics before leaving to play in China for the Beijing Ducks, recently leading the team to the CBA Championship.
With the 5th pick in the NBA Draft, the Minnesota Timberwolves select –
Ray Allen – Shooting Guard – Connecticut (*Traded immediately for Stephon Marbury)
Career Accomplishments – 2 time NBA Champion (2008, 2013), 10 time NBA All Star (2000 -2012, 2004-2009, 2011), NBA 3 Point Shootout Champion (2001), NBA All Time Leader in Three Pointers Made, Olympic Games Gold Medal (2000) –
Ray Allen is no doubt a future Hall of Famer and what many consider, the greatest shooter to ever play basketball. The two time NBA Champion began his career in Milwaukee after being traded for Stephon Marbury as previously mentioned. Much like Iverson, Allen would have his best year of his early days in the league in 2001 as part of Milwaukee's 'big three' with fellow future NBA Champions, Sam Cassell and Glenn Robinson. Iverson and Allen would face off in the 2001 Eastern Conference Finals in an infamous series which saw a lot of questionable foul calls go against the Bucks. Allen went on record accusing the referees of fixing the series stating ''Philadelphia would make more money with L.A than we would with L.A'', as Milwaukee lost in 7 games. Allen would then find himself traded to the Seattle Supersonics along with Kevin Ollie for Gary Payton and Desmond Mason. As a Sonic, Allen would form a one-two punch with another future NBA Champion, Rashard Lewis, leading the Sonics into a deep post season run through 2005.
With a championship always seemingly just out of reach, Ray Allen would again be moved in a trade to the Boston Celtics in 2007, combining with his second 'big three' combination joining Paul Pierce and newly acquired Kevin Garnett from the Timberwolves. Aligned with KG and the Truth, Allen would help deliver a championship title to Boston for the first time since 1986. Towards the end of his tenure as a Celtic, Allen would pass Reggie Miller's record for most 3 point field goals made (2,562), fittingly against the Celtics biggest rivals the Los Angeles Lakers.
It was however evident by the 2011 season that the Celtics were not the same dominant force they were when first arrived and with Allen finding himself a costless agent and chasing a second title, e he joined forces with LeBron James in South Beach with the Miami Heat. At three years and $3 million per year, Allen was a steal for the Heat playing a key role in their 2012-2013 Championship run and saving Miami from certain defeat in Game 6 of the finals. Allen hit the historic game tieing three pointer to send the game to overtime and eventually clinch the title for Miami in Game 7. After one more run in the Finals in 2014, Allen finds himself on the costless agent market once again with the Warriors, Clippers and Cavaliers as the front runners for his signature.
With the 6th Pick in the NBA Draft, the Boston Celtics select –
Antoine Walker – Power Forward - Kentucky
Career Accomplishments – NBA Champion (2006), 3 time NBA All Star (1998, 2002, 2003) –
Antoine Walker made an instant impact with the Celtics, averaging almost a double-double in his Rookie year. Walker was a beast down low and was known for his efficient scoring during the infamous Rick Pitino era in Boston. Walker would have to endure the worst season in Celtics history before Paul Pierce was drafted a year later. The two would combine to take the Celtics to the playoffs for the first time in almost ten years in 2001, with Walker averaging 22 points, 9 rebounds and 5 assists. Despite those stats, 'Toine had a fallen in love with long range shooting, which makes us think Josh Smith must have grown up idolizing Walker! Leading the league in three point field goal attempts three years running (2000-2002), Walker's highest finish for attempts made was 53rd overall. A staggering stat, in the 2001-2002 season, the ever-frustrating big man led the league with 645 attempts from beyond the arc. Ray Allen finished second with 528, a scary thought. Lack of efficiency would lead to a trade to the star loaded Dallas Mavericks in 2003. Struggling to find minutes behind fellow Power Forward Antwan Jamison, he was traded again soon after in 2004 to Atlanta. Playing only 53 games for the Hawks, Walker would again be traded back to the Boston Celtics where he finished the 2004-2005 season averaging a career low at that point, 16 points per game.
After forgettable seasons in Dallas, Atlanta and a second stint in Boston, Walker would play a pivotal role in the Miami Heat's first championship run in 2006. Averaging 13 points in a reserve role in the finals series against his former Mavericks team, Walker put up a double-double in the title clinching Game 6. This would be the peak of his career as Walker finished up with stints in Minnesota and Memphis and eventually the NBA D League before retiring for good in 2012.
With the 7th pick in the NBA Draft, the Los Angeles Clippers select –
Lorenzen Wright – Center – Memphis –
Career Accomplishments – No major accolades –
The Clippers snapped up Lorenzen Wright with the 7th pick hoping to get the key rebounder and shot blocking presence they lacked. Unfortunately, as hard as Wright would work he was limited on offense and struggled to make an impact in the league. Playing 13 seasons for the Clippers, Hawks, Grizzlies, Kings and Cavs, Wright would average 8 points per game and 6 rebounds over his career, leaving the league for good at the end of the 2009 season. Tragically, Lorenzen Wright was found shot dead in Memphis near his ex-wife's home in 2010.
With the 8th pick in the NBA Draft, the New Jersey Nets select –
Kerry Kittles – Shooting Guard – Villanova –
Career Accomplishments – No major accolades –
A major strength of the Nets at this point was there inside presence as they looked to surround Center Shawn Bradley with perimeter scoring. With the two best scorers remaining on the table being Kittles and Kobe Bryant, the Nets went with Kittles. A proven scorer, it seemed he had all the tools to fit the Nets. A good wing defender who could score 30-35 points at any given time, Kittles was a popular decision in New Jersey. The 6'5 guard could also create his own shot and was difficult to guard with his quick shot release. A promising rookie year ahead would see Kittles set a record for 3 point shots made by a rookie with 158. Kittles would be play a role in the Nets back to back Finals trips in the early 2000's before finally ending his career with the Los Angeles Clippers.
With the 9th pick in the NBA Draft, the Dallas Mavericks select –
Samaki Walker – Power Forward – Louisville –
Career Accomplishments – NBA Champion (2002)
Recording the only triple double in Louisville history against Kentucky, at that time Samaki Walker looked like a great prospect. A solid defender who could also put up points, Walker was a terrific college athlete. Samaki would however only average 5.8 points and 4.3 rebounds in his first five seasons in the NBA. Leaving Dallas after three forgettable seasons to join the Spurs, Walker would find himself signing with the defending champion Los Angeles Lakers as a costless agent in 2001. Phil Jackson would give Walker the starting Power Forward role following Horace Grant leaving the team. Walker would average 6.7 points and 7 rebounds during his first year with L.A. Playing just four playoff games due to injury, Walker would still earn his only championship. After playing just 39 games the following season, he would have short lived stints with the Heat, Wizards and Pacers before spending the remainder of his career overseas playing in Russia, China and Syria. In 2011, during a routine traffic stop, Samaki Walker was charged with felony possession of marijuana and liquid steroids. He comically made headlines for attempting to eat the marijuana. At least he can say he is an NBA Champion!
With the 10th pick in the NBA Draft, the Indiana Pacers select –
Erick Dampier – Center – Mississippi State –
Career Accomplishments – No major accolades -
Brought in as a back up to often injured Center Ric Smits, Dampier would go on to average 5.1 points and 4.1 rebounds in his rookie year. Known as a shot blocker with limited offensive skills, Dampier would become a journeyman player over 16 seasons in the league. Traded after his rookie year to the Golden State Warriors, Dampier would spend the next 7 seasons as the starting center. Despite maintaining career highs in points and rebounds (12.3 ppg11 Center would find himself traded to the Mavericks and Heat in the coming years. Unfortunately as luck would have it, Dampier was on the losing end of the 2006 Finals against the Heat while playing in Dallas, and vice versa in 2011. Finishing his career in Atlanta in 2012, Dampier played 15 games before hanging it up for good.
With the 11th pick in the NBA Draft, the Golden State Warriors select –
Todd Fuller – Center – NC State –
Career Accomplishments – No major accolades –
Todd Fuller's career has gone down as the one of the biggest busts in draft history. Playing just five years with the Warriors, Jazz and Hornets before finally finishing his NBA career in Miami, Fuller averaged just 3.7 points and 4 rebounds per game. Fuller was out of the league in 2001, pursuing a career overseas in Spain and later Australia. Looking back, its incredible that Kobe Bryant, Steve Nash and Jermaine O'Neal could all have been taken here. Fuller is now a high school math teacher in his home town of Charlotte.
With the 12th pick in the NBA Draft, the Cleveland Cavaliers select –
Vitaly Potapenko – Center – Ukraine/Wright State University –
Career Accomplishments – No major accolades –
The man known as 'The Ukraine Train' found himself double and triple teamed in College consistently and still managed to put up 20 plus points a game. An impressive scorer facing or back to the basket, there was a lot of hype behind Potapenko. In 11 seasons in the league, the Ukrainian could only manage 6.5 points per game and 4.5 rebounds. Potapenko was traded after 3 seasons with the Cavs before bouncing around the league as part of numerous trade packages. Spending a few short spells with Boston, Seattle and Sacramento, 'The Train' finished his career in Spain with Estudiantes. Luckily for Cleveland, they would land Zydrunas Ilgauskas with the 20th pick.
With the 13th pick in the NBA Draft, the Charlotte Hornets select –
Kobe Bryant – Shooting Guard - Lower Merion (High School) – (Charlotte traded the rights to draft Kobe Bryant for Lakers Center Vlade Divac)
Career Accomplishments – 5 time NBA Champion (2000-2002, 2009-2010), 2 time NBA Finals MVP (2009-2010), NBA Most Valuable Player (2008), 16 time NBA All Star (1998, 2000-2014), NBA All Star Game MVP (2002, 2007, 2009-2011) 2 time NBA Scoring Champion ( 2006-2007), Los Angeles Lakers All Time Leading Scorer, 2 time Olympic Gold Medal Winner (2008,2012), 1997 Slam Dunk Contest Winner –
That's right, Kobe fell this far in the draft. We understand hindsight is 20/20 as the saying goes, but that list of players is quite incredible to look back on.Without going in depth regarding his accomplishments as they are well documented, Kobe is now in his 19th year in the league and is a lock for the Hall of Fame once eligible. As this author writes this draft recap, Bryant has now passed Michael Jordan for 3rd place on the NBA All Time Scoring list with just Karl Malone and fellow Laker legend Kareem Abdul Jabbar ahead. With all the accolades Kobe has garnered over his near 20 year career and with a sixth title now surely out of reach with the current state of the Lakers, we believe passing MJ was the final goal Kobe wished to accomplish before hanging it up for good. So sit back and enjoy the next two seasons to come, because it will certainly be a sad day once one of the all time greats walks away from the game.