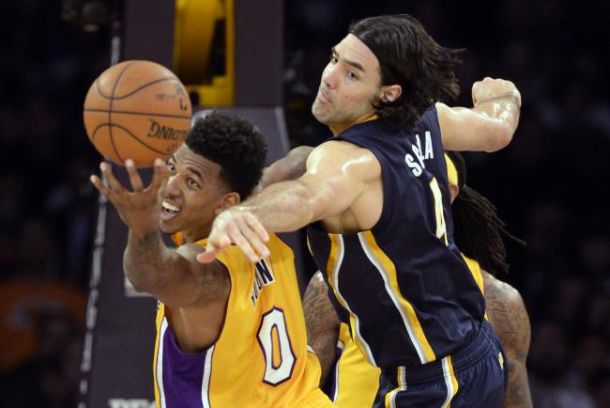 The Los Angeles Lakers will look to make it four straight wins, as they head to Indiana to play the Pacers on the second of a back-to-back.
The injury-ridden Indiana Pacers currently own an eight-game losing streak, as they have been challenged offensively due to the injuries. The Pacers rank second to last in points per game and third to last in field goal percentage.
"We're just not playing good enough," David West said after Saturday's loss to the Portland Trail Blazers. "That's what Coach said. It just wasn't good enough. We've got to figure it out. The games keep coming, and in a couple days we've got another chance to get a win."
The Lakers have lost the last four out of five meetings against the Pacers, but Indiana is in a completely different situation right now. They are without their star player Paul George and a couple other key players.
Meanwhile, Kobe Bryant and company are coming in with a lot of confidence and momentum. They are currently 2-0 on their short, three-game road trip. Carlos Boozer has been a key contributor off Los Angeles' bench, and his phenomenal play of late has been one reason the Lakers have played so well.
Boozer is coming off a 14-point, 13-rebound night against the San Antonio Spurs on Friday, and he followed that up with 22 points and 13 rebounds against the Minnesota Timberwolves on Sunday.
On the other hand, there is Kobe Bryant, who just got done passing Michael Jordan for third on the all-time scoring list. "I'm just honored to be here, man, to still be playing," Bryant said about his accomplishment. "I appreciate being able to play this long. Careers normally don't last this long. I really appreciate the opportunity to still be out there playing and performing and doing what I do."
In season's past, the Pacers have had the luxury of assigning Lance Stephenson or Paul George on Bryant. This season, the Pacers don't have anyone on the roster that can contain Bryant, which does not mold well for them.
Another key to success for the Lakers during their hot streak has been their defense. They have offered more resistance on that end of the floor, and it has paid off for them.
Going up against the Pacers the one area where the Lakers will have to excel in is rebounding. The Pacers are a top four rebounding team, as they thrive in limiting opponents to one shot per possession.
Otherwise, this should be another good opportunity for the Lakers to build on their winning streak and head back home with a ton of momentum. The Lakers cannot allow the Pacers to break out of their slump against them, so they will have to take this team out early and not give them any hope.
The game will tip-off at 7 pm Eastern Standard Time.