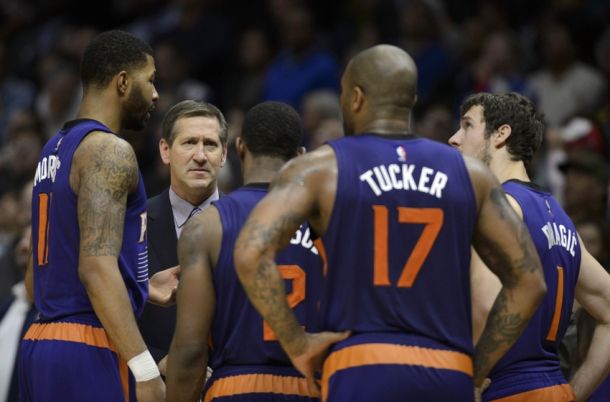 Last season's Cinderella team, the Phoenix Suns, won 48 games and barely missed the playoffs by one game in the final days of the season. Adding Isaiah Thomas, drafting Tyler Ennis and T.J. Warren, and re-signing Eric Bledsoe this offseason led pundits to predict the Suns were a playoff team in the Western Conference, and rightfully so. 50-plus wins and a six-eighth seed was a reasonable expectation for this team coming into the year. 26 games in, the Suns are currently in the midst of a six-game losing streak, own a sub .500 record of 12-14, and are sitting at 10th place in the West. Last year, the Suns had 21 wins before receiving their 14th loss and had a season-high losing streak of four games. What has happened?
Turnovers, Rebounding, and Defense
The Phoenix Suns average nearly 16 turnovers per game, 24th in the NBA. A majority of those turnovers happen in the second half of games. They have also committed 20-plus turnovers multiple times this season. That is a recipe for disaster. You simply cannot expect to win games committing such a high amount of turnovers, especially when a majority of the turnovers occur down the stretch of tight ball games. The Suns need to learn to take better care of the basketball and that starts with Eric Bledsoe, who is averaging over three per game. The Phoenix Suns average 41 rebounds per game, which is 18th in the league. The problem is how many rebounds this team allows. Ranked 28th in the NBA, the Suns allow 45 rebounds per game. Every game the Suns play, it seems as if they get out-rebounded. They have been murdered on the glass by teams with capable bigs, such as Memphis, Detroit, the Clippers, and more. Markieff Morris leads the team in rebounds per game at 6.3. P.J. Tucker is second with 5.9 a game. Someone on this team, or the team collectively, needs to step up and crash the boards. It does not help that big man Miles Plumlee has regressed heavily this year after showing good potential early last year, and was recently benched in favor of starting Alex Len. Last season, the Suns were 13th in the NBA in rebounds per game and 16th in rebounds allowed. Defense. The Phoenix Suns have never been the best defensive team in the league, but it should not be this bad. Sitting at 26th in the league, the Suns allow 104 points per game. P.J. Tucker, Eric Bledsoe, Miles Plumlee, and Alex Len are all above average defenders and that number should be much less than 104. Turnovers, rebounding, and overall team defense have to improve if the Suns want to make something of this quickly sinking season.
Protect your Home Floor
The Phoenix Suns are 6-7 at home this season, a sub .500 team at home so far. five of those seven losses came against Eastern Conference teams not named Cleveland, Chicago, or Washington. The Suns have lost HOME games to the Charlotte Hornets, Orlando Magic, Miami Heat, Detroit Pistons, and Milwaukee Bucks. No, that is not a typo. Those teams combine for a 45 win, 80 loss record. Detroit was on a 13-game losing streak before they beat the Suns. The Hornets are 1-10 on the road, winning only in Phoenix. Another bad home loss was given by the Sacramento Kings, in double overtime. DeMarcus Cousins did not even play in the overtime period, and the Suns held a seven-point lead in the first overtime period but still lost. Only three teams in the west have more than seven losses at home this season, the Lakers, Jazz, and T-wolves. The Suns should not belong in that group. Last season, they went 26-15 at the US Airways Center, or now known as Talking Stick Resort Arena. Last year when the Suns missed the playoffs by one game, they looked back at games they should have won that cost them in the end. Success on your home floor is crucial in making a push for the playoffs.
Missing Veteran Leadership
Channing Frye was a key part to the Phoenix Suns success last season. He averaged 11 points per game and shot nearly 40 percent from three. He started every single game last year. The Suns opted to let him walk this summer, where he landed a four-year contract with the Orlando Magic. The Suns thought they could easily replace his production, and they have with Markieff stepping up his game, and Isaiah Thomas providing a much needed scoring boost off the bench, but perhaps where they miss him most is inside their own locker room. Channing was the leader of the team last season. At 31 years old, he was a man among boys. Nearly every contributor on the Suns last year was under 25 years of age, and Frye had to make his presence felt not on the court, but off the court as the veteran every young team needs. The Suns signed Anthony Tolliver this past summer, who is older than Frye, but that's different. Frye was the only player left from the 2010 Western Conference Finalist Suns team. He had love for the organization and everyone respected him. P.J. Tucker has tried to fill his role and no offense to P.J., but he has not garnered the attention of his teammates like Frye did. Maybe having Frye was a bigger luxury than the Suns had thought. Whether it's Tucker or Dragić, someone on this team needs to come out as the clear cut leader.
Tough Losses
The Phoenix Suns are that team this season. That team that loses so many close, tight games, it has the fans looking up and asking what the Suns have done to upset the basketball Gods. Teams lose games, but the way this Suns team has lost games has been flat out heartbreaking. Of the 14 losses, eight have been by five or less points. Let that sink in. eight games the Phoenix Suns lost, they have been within five points. Five of those eight games have been by three points or less. That's tough. How about leading the Clippers by two with two seconds left and Blake Griffin hitting a step back game-winning three pointer? And six nights later, leading by one with three seconds, Kris Middleton hits a game-winning three pointer for the Milwaukee Bucks. Two buzzer beating losses within a week, both shots off the rim and somehow bouncing in. Sitting at 12 wins and 14 losses, the Suns could easily be 14-12 if it weren't for some terrible luck, maybe even better, had they closed out games properly. One positive this year has been that the Suns have put themselves in position to win many of the games they lost, but they just haven't been able to execute down the stretch when the game slows down. Looking at all these heartbreaking defeats, the Suns are much better than their record shows, and even have victories versus the historically good Warriors, defending champion Spurs, and on the road against Dallas. This same team started the season 12-8, including an undefeated 4 game road trip. Perhaps luck changes sooner rather than later, and the Suns will be on the winning side of these types of games.
Bring back the Magic
Magical, fun, chemistry, passion, happiness. Those were some words used by many to describe last season's Cinderella surprise team of the NBA, the Phoenix Suns. Going completely against what the national pundits had to say about the Suns in the pre-season rankings of last season, the Suns went out and won basketball games. Perhaps even to the surprise of their own team, they won 48 games and looked great doing it. Every single player had a defined role and accepted that role. They played their hearts out as the underdog team and won games for Head Coach Jeff Hornacek and each other. The chemistry of the team was second to none. It was amazing. They completely bought into Hornacek's style of play and did not care who scored more points or blocked more shots. They played for each other. The Suns have to remember how they were winning games last year. They are not an extremely talented team, and that is no surprise, yet they showed you can win in other ways. Put egos aside, put pride aside, who cares who scores more points, who cares if someone is shooting below 40 percent from the field, just REMEMBER LAST SEASON! This doesn't seem like a realistic scenario at this point, but it needs to be done. Someone needs to get the entire team in one room and have them look full games from last season.
The season is a third of the way finished but is far from being over. 12-14 is no place a team with playoff expectations wants to be, but it's not time to panic. The Suns just need to recapture the magic that got them all the success they had last year, and they will win ball games. Sure, the West is historically tough, but the Suns are too talented to be where they are at right now. A trade could be in the works, who knows, but either way, this season has a chance of being saved, and that starts with ending this current six-game losing streak. Nobody said it would be easy, and the Suns need to stop feeling bad for themselves and find something to spark a flame under this team.