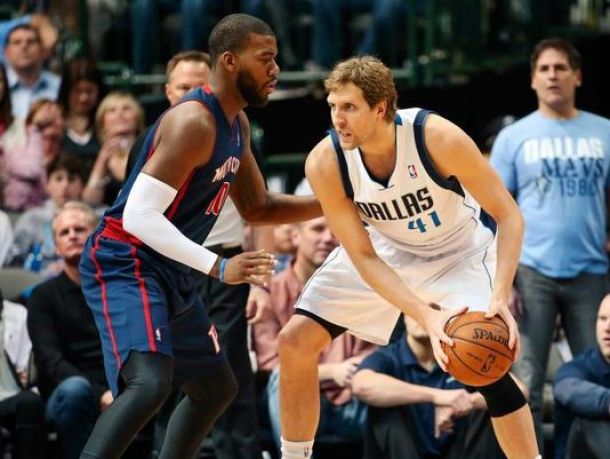 That's all from Auburn Hills, Michigan! Thanks for tuning into this LIVE as the Mavericks defeat the Pistons 107-96.
Ellis and Parsons go off in the second half and finish with 25 and 32 points, respectively. Dallas improves to 19-8, Pistons fall to 5-21.
Drummond with 19 Points, 24 Boards and 4 steals for Pistons. Jerebko and Jennings score 13, Augustin with 10 off the bench.
FINAL - Mavericks 117, Pistons 106
4th Quarter (1:04): Pistons battling but trail 112-102.
4th Quarter (3:25): Augustin triples and Pistons trail 103-95.
4th Quarter (4:46): Drummond with the put-back on the fast break, cuts Mavericks lead to 10.
4th Quarter (5:42): Meeks triples and the Pistons trail 100-85.
4th Quarter (9:00): Pistons go cold, better team starting to show true as Dallas leads 94-78.
Third Quarter (0:00): Butler triples at the buzzer and the Pistons trail by 10, 83-73 going int othe final quarter.
Third Quarter (40.1): Pistons go cold from floor, Mavericks get fast break shots and lead 83-70.
Third Quarter (3:30): KCP and Jennings both hit jumpers, Pistons trail by three after an Ellis mid range shot.
Third Quarter (5:00): Jennings has been cold from deep, starting to feel it a little tonight against Dallas.
Third Quarter (6:30): Both teams shooting cold but Dallas leads 62-59.
Third Quarter (11:40): Singler picks up early foul and subs out, it will be Butler, KCP, Jennings, Smith and drummond for Pistons.
HALF: Parsons and Ellis with a combined 25 points in the first half. Third quarter will get under way in just a minute.
HALF: Mavericks 53, Pistons 51. Drummond having a monster game for Pistons with 11 Points, 13 Boards and a pair of blocks and steals.
2nd Quarter (2:10): Drummond continues to be a force on defense, KCP misses fast break 3-Pointer and Ellis gets a layup on the other end. Mavericks ead 51-49.
2nd Quarter (5:07): Augustin almost connects with Drummond for a reverse jam alley-oop. He misses both from the stripe, but Augustin gets a swipe and Drummond gets a jam on the other end. Pistons lead 45-32.
2nd Quarter (6:47): High-energy game from Detroit as both teams are running and hustling. Pistons trail 40-39 after two Chandler free-throws
2nd Quarter (8:40): It's a shoot-out in the Motor City, Butler and Augustin triple, only to be answered by Nowitski. Pistons lead 38-35.
1st Quarter (1:18): Pistons can't handle intensified defense, Mavericks go on 9-0 run and lead 32-30.
1st Quarter (3:15): Parsons answers a Jennings drive with an And-One, Pistons lead 26-21.
1st Quarter (4:30): Mavericks get a few inside buckets but Singler answers with a triple, Pistons lead 23-18.

1st Quarter (6:20): Drummond in beast mode early on. Two scores off of offensive boards and Smith hits the layup to give Pistons an early 16-9 lead.
1st Quarter (8:27): Pisotns go a bit cold, back to back misses as Ellis splits fro mthe line for the Mavericks.
1st Quarter (10:00): Pistons start hot with triples form Singler and KCP and a Drummond dunk.
1st Quarter (12:00): Parsons, Nowitski, Chandler, Nelson, Ellis start for Dallas. Singler, Smith, Drummond, Jennings, Caldwell-Pope for Detroit. Tip off in a just a minute!
(7:37 PM EST) : Pistons Center Andre Drummond leads the NBA in Offensive rebounds at 112. Just behind him this season is the Mavericks Center Tyson Chandler at 106.
(7:26 PM EST): Tip-Off is in 5 minutes from The Palace of Auburn Hills.
(7:22 PM EST): Apparently, Pistons front office has also stated that Brandon Jennings if available for trade as well.
(7:16 PM EST): Pistons reportedly trying to shop both Josh Smith and Greg Monroe. Stan Van Gundy is likely testing the waters, and we could have news on this front by Christmas. While the market for Monroe will be pretty large, there are few teams interested in Smith, liekly because of his inability to shoot well from the perimeter.
The Pistons, at 5-20, are looking to snap their 10 game home losing streak. This task will be tough, however, against an 18-8 Dallas Mavericks squad that is 7-0 on the road against the Eastern Conference this season.
The Pistons were one game away from tying their franchise record for 14 straight losses last week, but they were able to win back to back games against the Suns and Kings. While neither are elite teams in a stacked Western Conference, the team certainly feels relieved to snap their losing streak and get back home. After taking on Dallas, they will face the Raptors, who continue to play well despite the absence of shooting guard DeMar DeRozan. Dallas, on the other hand, is coming off of a dominant win over another lowly Eastern Conference team, the New York Knicks. They spread out the scoring in that game, as eight players scored eight or more points, with Dirk Nowitzki leading the way with 16 points. After visiting the Palace of Auburn Hills, they will travel back to take on the San Antonio Spurs on Saturday night.
Although Dallas has been playing well, and Dirk Nowitzki and Monta Ellis continue to be an elite scoring duo, they find themselves just sixth in the Western conference standings. To illustrate the parody between the two coasts, if Dallas were in the East, they would currently be in third place. The playoff battle will be tough, as teams such as Golden State Warriors, Houston Rockets, Memphis Grizzlies, and San Antonio Spurs don't seem to be going anywhere. The bottom spot looks as if it will be a dog fight, as there is a significant fall off after the Oklahoma City Thunder and Mavericks. Teams like the Denver Nuggets, New Orleans Pelicans, and Phoenix Suns will most likely be vying for that 8th seed when the season gets close to the end. However, there is still plenty of basketball left to be played, and you never know what kind of injuries will go down as the season continues.
The Pistons, somehow, can still salvage a thus-far damaged and disappointing season. While their next two opponents are tough, the schedule softens up for Detroit as five of their next six opponents currently have losing records. The issue for this team has consistently been shooting, primarily from the floor, and the foul line. The three-point shooting, which was the Achilles heel for Detroit last season, has actually been decent, floating around the middle of the pack in the NBA. The team continues, however, to shoot close to 40 percent from the field on any given night. The turnovers haven't been an issue, but shot selection certainly has.
Head coach Stan Van Gundy will keep tweaking with the lineups, as he has been bouncing back and forth between his big lineup, featuring Josh Smith, Greg Monroe, and Andre Drummond in the frontcourt, and his balanced lineup, which has Kyle Singler starting instead of Monroe. The former certainly provides the team with stout interior defense and fast break potential, but leaves them stagnant in the halfcourt game Dallas Mavericks - Detroit Pistons. The latter opens up more options on offense, but suffers from Singler's poor defensive presence and lack of rotation. It will be interesting to see what the Pistons roll with tonight against the Mavericks strong front court of Chandler Parsons, Tyson Chandler, and Dirk Nowitzki.
While it's true that most NBA teams have bad possessions where they don't get open looks, the Pistons compound this problem by missing too many of their quality looks. If this team could have hit three-to-five more open shots every game this season, their record would be somewhere around .500, seeing as a majority of their losses have been by single digit points. However, the shooting accuracy has simply not been there, and while the return of shooter Jodie Meeks has helped slightly, bad shooting still plagues this Detroit team.
The game live Dallas Mavericks - Detroit Pistons will tip at 7:30 PM EST. Stay tuned with Vavel for live updates and commentary on the Detroit Pistons vs. Dallas Mavericks from the Palace of Auburn Hills.