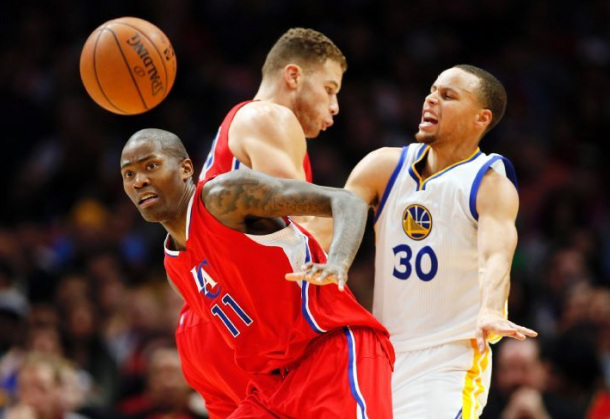 After losing to the Lakers in the same building just two nights earlier, Steve Kerr and the Golden State Warriors would lose once more at the Staples Center to the Los Angeles Clippers by a score of 100-86.
It was an ugly start for the Clippers in the first quarter, as the Warriors held them to 4-of-24 shooting from the field, yet Golden State only had a two-point lead going into the second. The Splash brothers experienced a bit of an off night for them on the offensive side of the ball, as Stephen Curry and Klay Thompson finished the night with 14 and 15 points respectively. In fact, Curry was 0-of-5 with two turnovers in the fourth quarter which is pretty unheard of from the fifth year pro. All of Golden State seemed a little sluggish shooting tonight as not one Warrior made it past 15 points, with the team shooting just 43 percent from the field and making only six three-point shots from 28 attempts.
Blake Griffin started off very slowly, as did most of the Clippers, but finished off the night with a very respectable 18 points, as he also managed to bring down 15 rebounds. The third quarter was the Chris Paul show, as he was arguably the best player on the court this evening. He scored six points and set up an alley-oop to DeAndre Jordan that erased just 84 seconds off the clock, as the Clippers built their lead up to six points with under four minutes to play in this quarter. Paul would finish the night with 22 points, seven rebounds, four assists, and three steals. Perhaps the most impressive stat was that he finished with just one turnover, which, in all honesty, is quite a feat considering how sloppy the Clippers looked in the first half of play.
In the fourth quarter, the teams went in opposite directions, as the Warriors only managed to score 16 points in this frame, while Jamal Crawford heated up, as he scored 12 of his 24 points during this same time frame. He would finish the night leading all scorers with 24 points with half of his made baskets coming from beyond the arc.
The Los Angeles Clippers will continue their nine game homestand against a very good Toronto Raptors squad on Saturday afternoon, with the Golden State Warriors going back home to take on the Minnesota Timberwolves the same day.