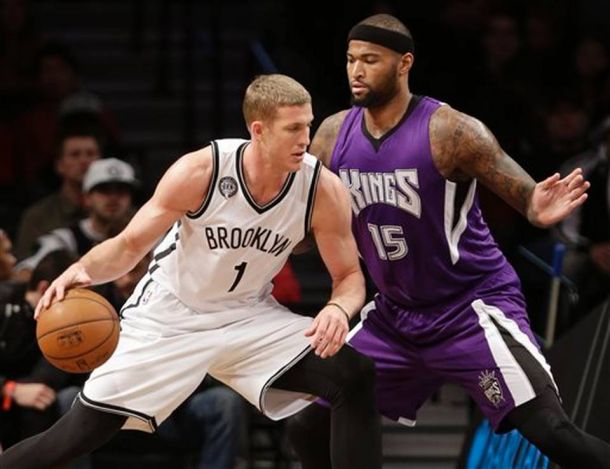 After coming off an embarrassing defeat to the Indiana Pacers on Saturday night at the Barclays Center, the Nets bounce back and put up high scoring numbers throughout the game. After one, Jarrett Jack had recorded nine points. Brooklyn scored 27 points in the first and scored a greater number in the second quarter, with 30 points. Sacramento was held to just 16 points in the second frame. The Nets concluded the first half on an 11-0 run.
Sacramento was able to come back stronger in the third period, as they put up 25 points in the quarter. The Nets remained hot, however, as they matched with 25 of their own. The Kings followed it up with an early 7-0 run in the final quarter of the game. Sacramento's run continued to build up (12-2), as Rudy Gay knocked down a shot from the arc with 5:12 left in the game. After a Brooklyn timeout, Mirza Teletovic built the Brooklyn lead back up, as he drained back-to-back three-point shots. From then on, the Nets went on to take this home victory.
This game featured two former U.S.A. teammates going up against each other, and none would disappoint their team. Mason Plumlee finished the night with 22 points and four boards, while DeMarcus Cousins achieved a double-double with 24 points and 13 rebounds. Plumlee was 10-of-16 from the costless throw line, which would be career highs for him in costless throws attempted and made. Joe Johnson also had a solid outing, with 16 points and six assists. Deron Williams and Brook Lopez, who continued to come off the bench, combined for 17 points. Rudy Gay led Sacramento with 25 points.
The changes Nets Coach Lionel Hollins has made have been for the greater good of the team. As a starter this season, Jack has averaged 19 points a game to go with five assists. In the last 10 games, Plumlee has averaged a double-double, with 17 points and 10 boards a game. Williams has publicly talked about his new role, as he stated, "I'm all for the team. It doesn't really matter to me."
Brooklyn will now look to end the year with a road win against the Chicago Bulls on December 30th. For Sacramento, they will be back in action against the Boston Celtics on December 31st.