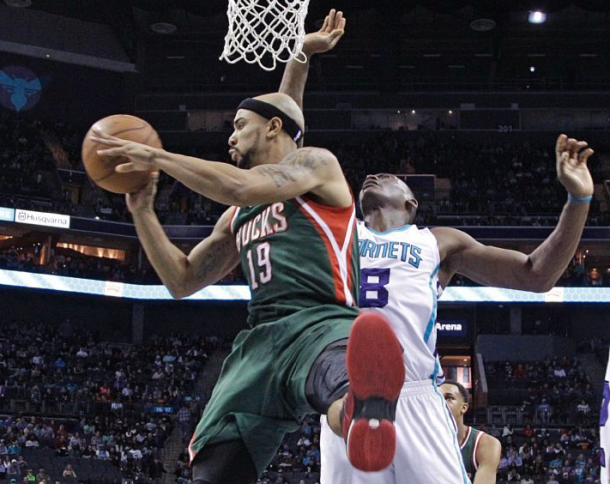 The Milwaukee Bucks, who had dropped nine of 14 games, held on in overtime to defeat the Charlotte Hornets, 104-94, Monday night, snapping a seven-game losing streak to the Hornets.
Brandon Knight, the team leader with 17.7 points per game, scored 18 on 8-of-19 shooting. He's averaged 25.8 points and 9.8 assists in his last four against the Hornets.
Reserve forward Jared Dudley scored 17 points, and center Zaza Pachulia added 15, while Giannis Antetokounmpo had an impressive stat line with 16 points, eight rebounds, four assists, and three blocks.
For Charlotte, Kemba Walker, who came into the game averaging 24.8 points and 6.8 assists in Charlotte's last four victories over Milwaukee, was once again the high man with 28 points. Gerald Henderson also had 19 points while Michael Kidd-Gilchrist had 10.
In the first half, the Hornets jumped out to a fast start, as they built a 14-6 lead with 7:28 remaining but then went ice-cold, missing sixteen consecutive shots, while Milwaukee scored eighteen straight unanswered points to take a 24-14 lead.
In the second, the Bucks extended their lead, 35-20, as Charlotte went 1-of-9 the first six minutes of the quarter and cruised to a 49-32 halftime advantage as Charlotte collectively shot just 26 percent on 11-of-42 shooting in the first half, a season low at home.
The Bucks opened the second half strong, hitting their first six shots to make it 61-47 in the third, but Charlotte went on a 12-2 run to cut the lead to 63-59. Milwaukee looked to be in control in the fourth after O.J. Mayo hit a three to make it a 77-66 game, but Charlotte woke up and went on a 15-4 run to tie the game at 81.
Walker's layup with 54.5 seconds left put the Hornets up, 83-81.
However, the Bucks responded when Knight drove down the lane for a layup and after being initially blocked by Cody Zeller, he recovered the ball and flipped it in to tie the game at 83 with just fifteen seconds remaining.
Charlotte squandered their shot at possibly winning the game in regulation after Walker threw an errant pass in the backcourt for the turnover but Milwaukee could not capitalize, as Dudley missed an 18-foot jumper with time expiring.
In overtime, though, Milwaukee took over, as John Henson had an emphatic slam and Dudley hit a three with 1:23 to put the Bucks up for good, 99-88.
Coming up for the Bucks will be a tough road game against LeBron James and the Cleveland Cavaliers on Wednesday, while Charlotte will be in Houston to take on the Rockets the same night.