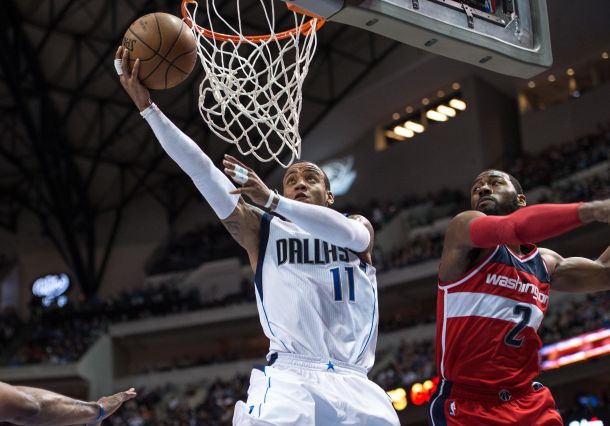 There is no sugar coating the Washington Wizards' 114-87 loss to the Dallas Mavericks. It was a complete shellacking.
"We just played bad. We were just awful. We were just super awful," said center Marcin Gortat, who finished with 10 points and just four rebounds.
The Wizards suffered their most lopsided defeat of the season, losing by 27 points to a Dallas team that looked to be firing on all cylinders. Monta Ellis led all scorers with 20 points. Ellis was one of six Mavericks to reach double digits in scoring.
It was one of those nights where the Wizards were defeated in all facets of the game. Washington turned the ball over 23 times leading to 33 points for the Mavericks. Paul Pierce knows the large amount of turnovers opened the floodgates for Dallas.
"[Turnovers] were pretty much everything for us, the way they turned the ball over. We usually do a good job of taking care of the ball. It just wasn't us tonight."
John Wall scored an underwhelming team high 11 points and had three turnovers himself.
"We turned the ball over too much in the first quarter. We just started turning the ball over a lot and they started getting fast break after fast break," said Wall. "When guys turn the ball over a lot it really hurt us. We didn't get a lot of ball movement."
The Mavericks finished the game with 31 fast break points and had a comfortable lead throughout. Dallas shot 52.4 percent from the field and were even better from beyond the arc, finishing 8-of-15, 53.3 percent.
After a hard fought one-point victory over the Houston Rockets to start their five game road swing on Monday, the Wizards fell back to Earth with one of their more humbling losses in recent memory just 24 hours later.
"We got ourselves in trouble, and you can't do that against good teams. They beat us up on both ends of the floor," said Wizards' head coach Randy Wittman.
With the loss, Washington's three-game winning streak comes to an end with three games left against the Western conference opponents. The Wizards finished the 2014 part of their schedule at 22-9 and remain in third place in the Eastern conference.
Washington will have two days of rest before starting 2015, playing the Oklahoma City Thunder on Friday.