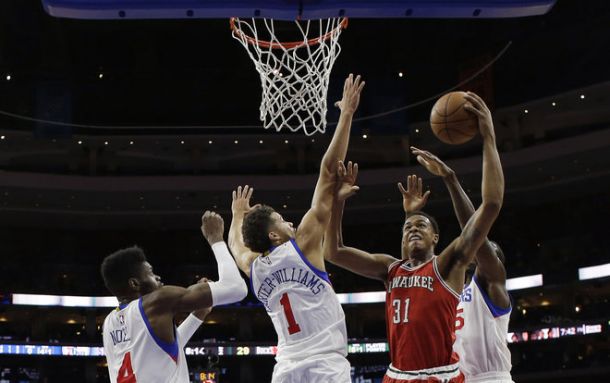 Khris Middleton and Brandon Knight both had 18 points to power the Milwaukee Bucks past the Philadelphia 76ers, 97-77, Wednesday night.
The Bucks got back in the win column, as they shot an overall 53.9 percent from the field and tallied a season-best 32 assists. Middleton hit 7-of-9 shots to go along with five steals and two assists, while Zaza Pachulia had a double-double of 11 points and 12 rebounds. O.J. Mayo added 15, and reserve guard Jerryd Bayless scored 12.
The Sixers, who were looking for their second consecutive home win after beating Cleveland, 95-92, on Monday, shot 30.1 percent for the entire game. K.J. McDaniels poured in 14, and Nerlens Noel had 13, while starters Robert Covington, Henry Sims, and Michael Carter-Williams combined to go 3-of-32.
Both teams started out sloppy as they combined for five turnovers in the first five minutes of the period, but Milwaukee outshot the 76ers 57 to 21 percent, which helped them build a 27-11 lead, ending the quarter on a 17-2 run.
In the second, Philadelphia went on a 9-2 run to close the gap, but Milwaukee scored six straight fast break points to make it a 35-22 game. O.J. Mayo made a huge contribution off the pine with nine points, three assists, and two steals. As poorly as the 76ers shot in the half, 28 percent, the Bucks could not find any separation, as they kept missing easy shots and defensive rebounds, resulting in a 10-0 advantage in second chance points for Philadelphia, but still headed into halftime up, 53-39. The lead should have been larger given the fact Milwaukee shot a season-high 60 percent in the first half.
It was more of the same in the third, as Milwaukee opened on a 13-2 run and extended the lead to 25 points, 66-41. Philadelphia made a mini-run to trim the lead to 17, 77-60, heading into the fourth, but the Bucks took complete control in the final quarter. O.J. Mayo nailed a three with under four minutes remaining that helped Milwaukee grab its largest lead of 31 points, 95-64, and the Bucks cruised to victory.
Milwaukee has now won its fifth consecutive road game, and its fourth straight over the Sixers but played poorly overall, turning the ball over 24 times and sending Philadelphia to the charity stripe 29 times, resulting in 25 uncontested points.
Philadelphia is 3-6 over its last nine games after starting the season 0-17 and going 2-23 over the first 25 games.
The Bucks will host a young, inexperienced Timberwolves team on Friday, while the Sixers will be in Brooklyn to take on the Nets the same night.