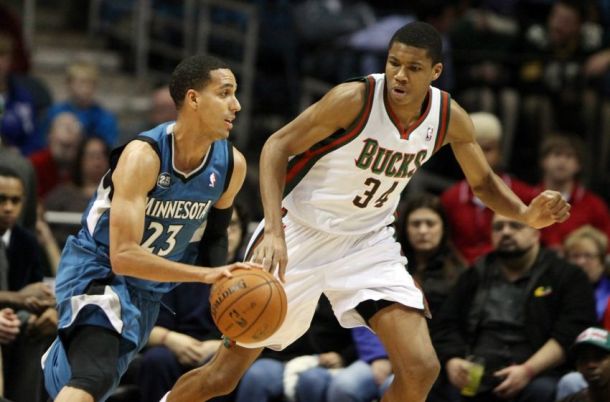 Game Info
Time: 7:30 CT
Location: BMO Harris Bradley Center
TV: FSN (Minnesota) FSWI (Milwaukee)
Team Matchup
Average Points: Minnesota: 98.8 Milwaukee: 98.9
Average points allowed: Minnesota: 108.6 Milwaukee: 98.2
Last Meeting
These teams met each other in Minnesota earlier in the season on November 26 with the Bucks defeating the Timberwolves, 103-86, led by Larry Sanders' 15 points, seven rebounds, and five blocks. It was also the first, highly-anticipated showdown of the season between the top two draft picks, Andrew Wiggins and Jabari Parker. The two 19-year-olds rarely matched up against each other in the game, but Wiggins' huge block on Parker's layup attempt in the third brought the crowd to its feet. Wiggins finished with a better stat line of 14 points, eight rebounds, four assists, and two blocks, while Parker totaled 11 points, seven boards, three assists, and a block. Milwaukee's hard-nosed, tough defense grinded down the Wolves offensive attack, forcing 19 turnovers for 20 points and holding them to 38 percent shooting from the field. It is important to note that the Wolves had only ten healthy players in the first matchup and were without their top two point guards, Ricky Rubio and Mo Williams. All five Bucks starters scored in double figures, and they also had 39 bench points.
This week's results
After losing their fourth consecutive home game on Tuesday to the Phoenix Suns, 102-96, Milwaukee bounced back in Philadelphia, trouncing the Sixers, 97-77 Wednesday night, in which they shot 53.9 from the field. Brandon Knight and Khris Middleton had 18 points apiece. Minnesota, meanwhile, played last night in Minneapolis, losing to the Suns by a final score of 113-111. In that game, Andrew Wiggins had 25 points and had a great shot to win the game but his three-pointer clanked off the rim at the buzzer. The Wolves led by as much as 13 in the game, but the Suns poured in 42 points in the fourth and Eric Bledsoe's steal and dunk gave Phoenix the decisive lead with 55 seconds remaining.
Game Preview
It has been a trying season for the Wolves, as they are in complete rebuilding mode and have lost 13 straight but have played very competitively in the past several games. Rookie Wiggins (14.3 ppg) and second-year man Shabazz Muhammad (13.8 ppg) have looked promising. In fact, Wiggins has scored at least 20 in seven of the previous eight games and is shooting 51.5 percent. He is emerging as a young leader, as he must carry the load with Ricky Rubio, Nikola Pekovic, and Kevin Martin all sidelined with injuries.
As for the Bucks, they are trying to improve their home record (7-8) after losing four straight and six out of the last eight at the BMO Harris Bradley Center. Good news is that Brandon Knight has scored in double figures 34 times and his complete game of points, assists, and rebounds puts him in elite company. The list of NBA players averaging at least 18 points, four rebounds, and five assists is only seven deep - James Harden, Kobe Bryant, Stephen Curry, Damian Lillard, and Kyle Lowry, along with Knight.
Injury Report
Milwaukee
Jabari Parker – OUT (torn ACL)
Damien Inglis – OUT (broken foot)
Ersan Ilyasova – OUT (concussion)
Larry Sanders – OUT (illness)
Minnesota
Ricky Rubio – OUT (wrist)
Kevin Martin – OUT (wrist)
Nikola Pekovic – OUT (ankle)
Prediction
Wiggins has another solid game, and the Wolves score a lot of points but Milwaukee wins at home, 110-105.