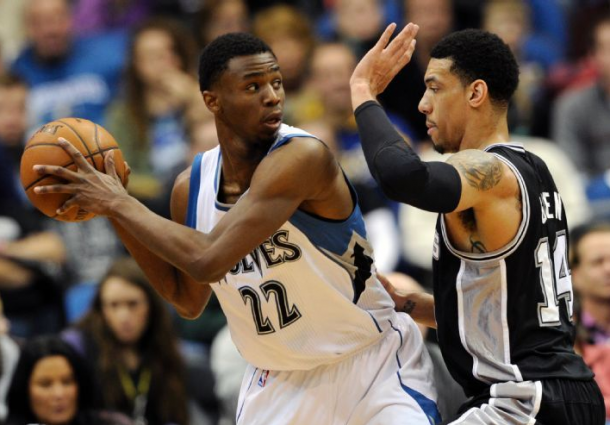 The San Antonio Spurs defeated the Minnesota Timberwolves, 108-93, Saturday night, the 15th straight loss for Minnesota. The Spurs took the lead early and were able to withstand a frantic, late rally from Minnesota.
The Timberwolves started to make a run late in the fourth quarter, due to the Spurs' inability to make shots, but it was too little too late, as San Antonio made key plays and sunk costless throws down the stretch to seal the victory.
Rookie Zach LaVine led the Timberwolves with 19 points, while both Gorgui Dieng and Andrew Wiggins scored 18 points, but it was not enough, as the Spurs got 22 points from Austin Daye and 19 points from Patrick Mills. Daye also led the Spurs with 10 rebounds. The Spurs did not have to use Tim Duncan and Tony Parker much in this game, as Gregg Popovich gave them plenty of rest, playing them 21 and 25 minutes respectively.
Once again, the Timberwolves were forced to rely on heavy minutes from rookies Andrew Wiggins and Zach LaVine, who are both averaging a decent amount of minutes per game due to injuries to their veteran players.
One positive for the Wolves was that they were a perfect 26 for 26 from the costless-throw line tonight, while San Antonio shot 85 percent from the line. Both teams struggled from the three-point line, as the Spurs only shot 38 percent, while Minnesota shot only 20 percent from beyond the arc.
The Spurs improve 23-15 on the season and are barely clinging on to the seventh seed. The Timberwolves fall to 5-31 and are dead last in the West still.
The Wolves are back in action on Tuesday at 6:00 pm CT, as they take on the Indiana Pacers. The Spurs next play on Tuesday as well, as they take on the Washington Wizards, that also starts at 6:00 pm CT.