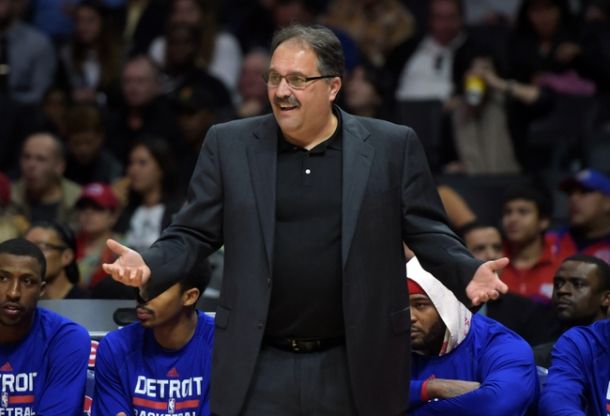 "SVG sucks."

"Van Gundy is a mediocre coach."

"SVG is no different than other Pistons coaches."

Impatience runs rapid in our modern world of sports, and the Detroit Pistons are no exception. However, you can't really blame the fans, who have suffered through mediocrity ever since Chauncey Billups was traded to Denver for Allen Iverson in 2008. A team that had made six consecutive Eastern Conference Finals appearances turned into a lottery team way too quickly.

Hey, but after the Bad Boys disbanded in the early 1990's, they had several years of irrelevance. Sure, Dumars stayed until 1999, but the team didn't make another deep run until the re-birth of the Pistons in 2002 with Chauncey Billups, Ben Wallace, and the rest of those guys. So maybe now, after that era came and went, this is the next re-birth of the Pistons?

Boy, it sure didn't look like it early on. The Pistons had just five wins in their first 28 games but then, SVG made the decision that seems to have saved his team's season. He released Josh Smith right around Christmas time, and the team moved on from there. Since that point, they have won nine out of ten games and are outscoring their opponents by an average of over 12 points per contest. They are also shooting better, somewhere in the 46 percent ballpark, which is significantly improved from the 39 percent clip they were hitting in the first one third of the season. Yikes, right?

The "yikes" moments have all but left this team, however, as the team finally fits the mold of an SVG team. It's hard to put 28 games in front of several successful seasons of coaching for Stan, but many hasty Pistons fans were jumping the gun. There were talks of the lottery and blowing up the team, and it was only December. Now, the talks have shifted to a sixth seed in the playoffs, and possibly even a return to the conference finals.

Detroit is playing confidently within a system that is proven and effective. While in Orlando, SVG built his team around two big men, a few shooting big men and a few savvy, yet talented guards. It's a healthy eight or nine man rotation that is centered on spacing. It's almost the opposite of the Triangle offense, made famous by John Wooden at UCLA and then with the Bulls and Lakers in later years. See, that offense focuses on constant movement down low and penetration. SVG is all about quick passes, one guy in the post and using every inch of the halfcourt. SVG's teams always have a high three-point percentage, because their spacing allows them so many open looks per game. Also, their willingness to shoot high volume from deep opens up the paint later in the game, as teams slowly start surrendering space in the 8-14 foot range in order to cover the perimeter.

Brandon Jennings and D.J. Augustin are the ball handlers, and both have done well, especially Jennings. For a reason that still eludes and baffles Pistons fans, Josh Smith handled the ball often for Detroit and while he got the occasional assist, it threw off Jennings to no end, who struggled during the Pistons 13-game losing streak. However, now that Jennings has full reigns on the offense when on the court, he has been able to thrive. The space allows him to create off the dribble, which is one of his strengths.

Kentavious Caldwell-Pope and Jodie Meeks have been able to find open looks from both mid-range and three-point range. Kyle Singler, Anthony Tolliver, Jonas Jerebko, and Caron Butler all have the ability to shoot, as well as rebound down low. SVG has been able to cycle in these four players at the three and four spots. Finally, Greg Monroe and Andre Drummond, much like Dwight Howard and Marcin Gortat in Orlando, are given plenty of room to operate down low. While Monroe works better in the post and Drummond thrives on pick and roll lobs, they both finally have the chance to get one-on-one opportunities in the paint.

The Pistons find themselves top 10 in the NBA in points in the paint per game at just around 44 per contest, while they rank first in offensive rebounds per game. Additionally, they are just ninth in turnovers per game and top 10 in three-pointers made. In their past ten games, they have upped their season average in points per game from 93 to 97, which is outstanding. They are finally getting and hitting more open shots. It's clear that SVG finally has a team in place that fits his high space, low clutter style. Everyone has been playing better and the team looks like they could be a dark horse in a weaker Eastern conference. They have beaten two of the top five teams in Cleveland and Toronto, and barely lost to Atlanta and Washington by a combined seven points this season.

Pistons fans, the wait may be over. This team should return to the playoffs after a five season drought. Whether or not they make a deep run in the next half decade is dependent on the development of Drummond and Caldwell-Pope, as well as their 2015 draft pick. However, Van Gundy's reputation has finally caught up with him in the Motor City, and so have the wins.