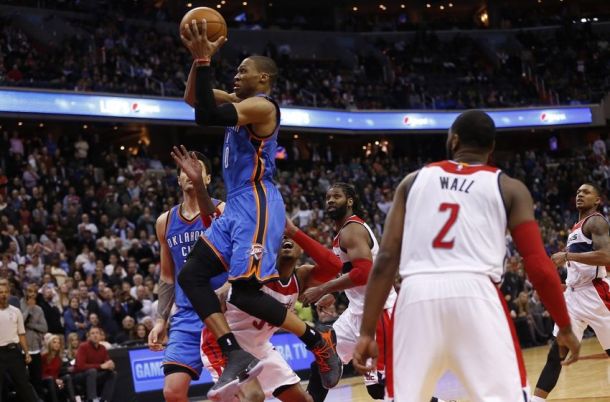 The Oklahoma City Thunder came away with a huge overtime victory Wednesday night over the Washington Wizards. Washington had a 12-point halftime lead, but Russell Westbrook and Kevin Durant carried the Thunder to a 105-103 victory. Westbrook made the decisive basket when he blazed past the Wizards defense and scored an easy layup leaving 0.8 seconds left on the clock.
With the game played in Washington D.C., it was a big homecoming for native son Kevin Durant who was able to play in front of family and friends while hearing fans campaign for Durant to come home in 2016 when he's a free agent. He didn't disappoint, as the reigning MVP scored 34 points while grabbing seven rebounds.
Durant's wingman Russell Westbrook added 32 points, eight assists, and eight rebounds. Westbrook was the key cog to Oklahoma City's comeback, as he scored 16 points in the third quarter erasing the Wizards double-digit halftime lead. Steven Adams added six points and a career-high 20 rebounds.
One thing is for sure, none of Washington's perimeter players had their jump shot working tonight. John Wall scored 18 points on 6-of-17 shooting, including 2-of-6 from behind the arc. The All-Star point guard did dish out 13 assists, grab six rebounds, and record four steals, but his jump shot was off tonight. Bradley Beal couldn't find a rhythm, as he scored only 14 points on 5-of-21 shooting, including 2-of-9 from the three-point line. Paul Pierce knocked down some huge shots down the stretch and grabbed a season-high 12 rebounds, but he scored 14 points on 5-of-13 shooting, and just like Beal, went 2-of-9 from behind the arc.
The big Brazilian Nene led the Wizards with 24 points on 9-of-14 shooting, and in the overtime period, he scored nine of Washington's 11 points. He kept them in the game even when the game looked bleak.
This wasn't a well-played game from a consistent shooting perspective, but both teams handled the ball well, combining for only 19 turnovers. The only categories the Thunder beat the Wizards in was field-goal percentage (39.2%-to-38%), blocks (5-to-3), and points in the paint (56-to-48).
The deciding factor was late game execution. Oklahoma City had the ball at mid court with 3.6 seconds left in overtime with the game tied at 103 and instead of keeping Russell Westbrook in front of him, Bradley Beal was caught ball watching, and Westbrook sprinted right on by him for an easy layup leaving 0.8 seconds on the game clock. His teammates didn't rotate well to impede his progress to the basket, but the play was broken when Beal allowed an easy inbound pass. Combine that with Westbrook's athleticism and explosiveness, game over.
Kudos to Washington's effort, but this is a tough loss to swallow and will have to wait until next season to get another crack at the Thunder, as they swept the two-game series. This was also the first loss the Wizards have suffered leading after three quarters. They had gone 16-0 before this loss.
Oklahoma City will continue their East coast road trip Friday, as they head to Atlanta to face the blazing Hawks at 7:30 PM EST. Washington will head on the road and start a four-game West coast trip in Portland to face the Trail Blazers at 10:00 PM EST.