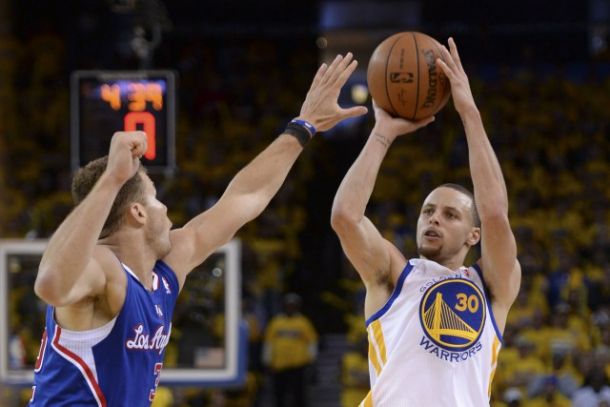 On Thursday evening the starters for the 2015 NBA All Star Game were announced on TNT. Stephen Curry led the league in votes with LeBron James finishing a close second, just 40,000 votes behind Curry's league-leading 1,513,324. This will be Curry's second starting berth in a row, and it is the first time that he has led the league in votes. Meanwhile, James loses his place as top vote recipient, however he has still been selected to play in his 11th straight All Star Game.
Joining Curry in the backcourt for the Western Conference will be Kobe Bryant. Bryant recently suffered an injury in his shoulder, and as such is a doubt for the game. Don't be surprised if Kobe gives up his spot to a reserve, given that is what he did a season ago. This season Bryant has averaged 22.3 points.
On the frontline for the Western Conference will be Anthony Davis, Blake Griffin and Marc Gasol. This will be the first All Star Game for Davis, and it is well deserved given that he is now a truly elite player. Davis' career is off to a sterling start, and in addition to his success in the league the University of Kentucky procudt has an Olympic Gold medal from the 2012 games a Gold medal from the FIBA World Cup tournament this past summer.
At power forward it will be Blake Griffin of the Los Angeles Clippers. Griffin has been always very active during All Star weekend. He competed in and won the Dunk contest his rookie season with a famous dunk over a car. This will be his fourth time in the All Star Game.
At center, Marc Gasol will be going up against his brother Pau who will start for the Eastern Conference. Marc Gasol was the 2013 NBA Defensive Player of the Year, and has often been underrated. He has anchored the Memphis Grizzlies' defense, and earned the right to start.
The backcourt in the East consists of the Washington Wizards' John Wall and the Toronto Raptors' Kyle Lowry. This will be Wall's second All Star game in a row and will be his first time starting. He is currently leading Washington to the second seed in the east and is having a breakout year averaging 17 points per game. The other half of the Eastern Conference backcourt consists of Lowryt, and it is fair to say that he was deserving of a spot last season. Toronto made a push for him to be in the All Star Game as he got support from rapper Drake and Canadian Prime Minister Stephen Harper. He is having career season, with career best in almost every category averaging 19.8 ppg, 7.5 assists per game and 4.9 rebounds per game.
The Frontcourt for the East will contain LeBron James, Carmelo Anthony and Pau Gasol.
For Carmelo, this might be the only thing of the season which he looks forward to as his Knicks are struggling. Meanwhile, for Pau Gasol this will be his first All Star game since 2011 and his first career start. He signed with the Bulls this past summer and has mad an impact giving the Bulls a post presence and someone who can pass out of the double team. It should be an interesting experience for both Gasol brothers, and Pau is averaging 18.7 ppg.
This one is no surprise as LeBron is still the best player in the game. He led the East in votes, receiving over 1 million votes. He in writng a new chapter in his career trying to bring Cleveland it's first championship in about 60 years. No matter what Lebron will always be an All Star.
Atlanta Hawks coach Mike Budenholzer will Coach the Eastern Conference and Golden State Warriors coach Steve Kerr will coach the Western Conference. The reserves will be announced on January 29th, and that will also be on TNT. The game itself will be on Feb. 15 at Madison Square Garden in New York.