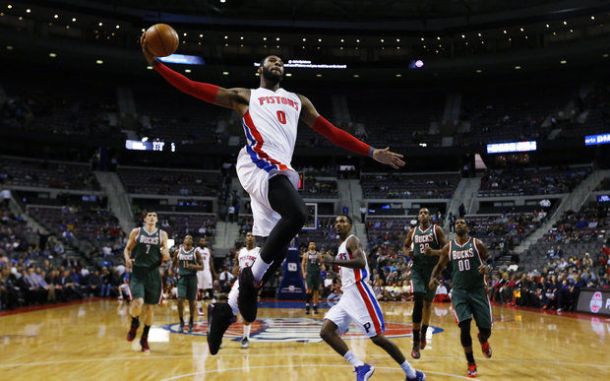 The Detroit Pistons go up against the Milwaukee Bucks in Milwaukee, Wisconsin, at the BMO Harris Bradley Center at 7:30 pm ET. The Pistons record is (17-26), sitting fourth in the Central division. The Milwaukee Bucks are (21-21) in third place in the Central division.
The last game for the Pistons was a win on Wednesday night versus the Orlando Magic by a score of 128-118. The Pistons were carried by Andre Drummond who had 26 points and 17 rebounds, as well as Brandon Jennings who had 24 points and 21 assists. The Bucks lost in their last game to the Utah Jazz, 101-99. Their leading scorer was Brandon Knight and Jared Dudley with 16 each.
The Pistons and Bucks have played each other three other times this season, all in the month of November. The series is 2-1 in favor of the Milwaukee Bucks. The Pistons are looking for their eighth win in nine road games.
The Pistons record are 17-26 this season, but they have played tremendously well since they released Josh Smith, who then signed with the Houston Rockets. After the release of Josh Smith, the Pistons have gone 12-3. While before releasing him, they were 5-23.
The Bucks have lost key players due to injury and suspension. They lost 2014 second overall pick Jabari Parker and Kendall Marshall to season-ending knee injuries. Also, rookie Damien Inglis is out for the season with a lower leg injury. Meanwhile, Larry Sanders was suspended 10 games for violating the NBA's drug policy. Therefore, they have been extremely shorthanded, but they have signed Kenyon Martin to 10-day contracts to make up for their depleted roster.
In this game, the Pistons should be able to continue their hot streak and improve to 18-26 on the season. The Bucks are 9-10 this year at home, while the Pistons are 10-11 on the road this season. The Pistons have won 12 of their last 15, with two of the losses coming against the Eastern conference leading Atlanta Hawks.
The game tips off at 7:30 pm Eastern Standard Time.