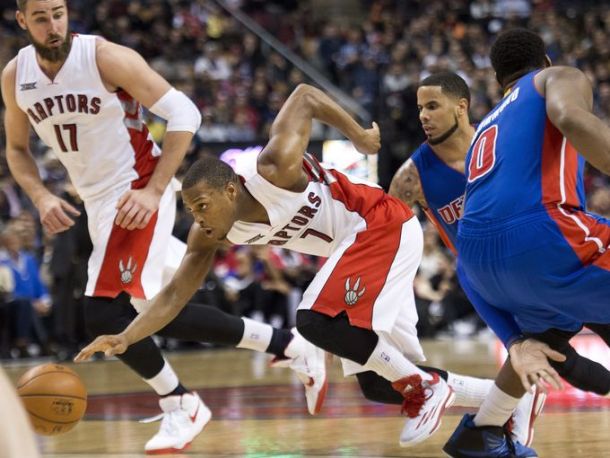 While the loss is disappointing, the game overall should be encouraging for the Pistons and their fans. D.J. Augustin, along with shooter Jodie Meeks, were SVG's biggest off-season signings. Augustin, thus far, has been a serviceable backup, but hot and cold overall. Tonight, he proved that he can handle the load in place of Jennings, who will be out the remainder of the season. Augustin scored a career-high 35 points to go with eight assists, as the Pistons dropped their second straight game after winning 12 of their previous 15.
Jennings suffered a nasty injury against the Milwaukee Bucks Saturday night, and it was discovered today that he ruptured his left Achilles' tendon. Augustin takes over an offense that has been shooting well from deep and not turning the ball over very much. The team continued to do that tonight, as they shot 35 percent from deep and committed just 14 turnovers. However, the Raptors only had eight, which was a big part of them getting their 29th victory of the season. Since returning just last week, DeMar DeRozan has provided the offensive spark that this team needed. Tonight, the shooting guard scored 25 points and shot 8 of 14 from the floor.
The Raptors went with a three-guard starting lineup, featuring Greivis Vasquez in place of Terrence Ross. All five starters reached double-digit points, as Jonas Valanciunas achieved a double-double with 20 points and 11 boards. The Raptors were leading by 7-11 points for most of the fourth quarter, but the Pistons did manage to pull within four points after some hot shooting by Anthony Tolliver, who had nine points on the night and hit a corner three-pointer, followed shortly by a dynamic Kentavious Caldwell-Pope dunk with about four minutes left. However, the Pistons cooled off and the Raptors pulled away.
Greg Monroe battled down low, finishing with 21 points and 16 rebounds, but the Pistons rally fell short in Toronto. The team's playoff chances still look solid but are certainly depleted with the loss of Jennings, who was playing the best basketball of his career in the fifteen games since the Pistons released Josh Smith.
The Pistons will try to bounce back Tuesday against the Cavaliers, which tips off at 7:30 PM EST. The Raptors will look to grab their 30th win of the season on the road on that same night against the Pacers, which starts at 7:00 PM EST.