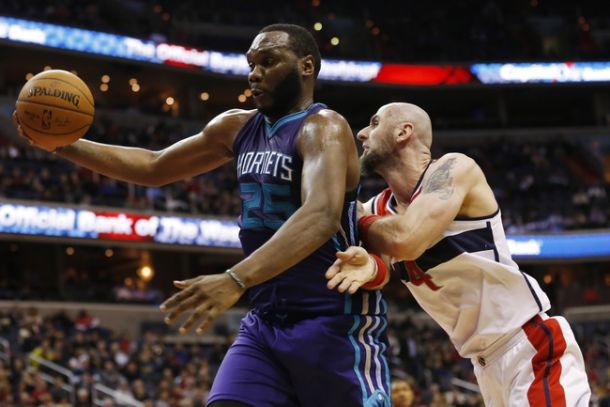 The Washington Wizards continued their bad play on the court Monday night as they lost at home to the Charlotte Hornets, 92-88. This was Washington's fifth loss in their last seven games, and have now been defeated three straight times at home in the Verizon Center. Meanwhile, the Charlotte Hornets have won six of their last eight games and are now holding down the eighth seed in the Eastern Conference.
Al Jefferson led the Hornets with 18 points and 12 rebounds; he was one of five Charlotte players to score in double-figures. Brian Roberts also scored 18 points, Gerald Henderson added 17 points, and Michael Kidd-Gilchrist finished with a double-double scoring 13 points and grabbing 13 rebounds.
Even with several nagging injuries and migraine issues, John Wall posted another double-double with 16 points and 10 assists. Unfortunately, Wall wasn't efficient in doing so, as he went 4-of-14 from the field and turned the ball over four times. His backcourt mate Bradley Beal also recorded a double-double as he led the Wizards in points with 18 and rebounds with 11. Beal was the go-to guy tonight, but it was in a losing cause as no one else could consistently make a shot for Washington.
Washington's starting big men Marcin Gortat and Nene struggled, as they combined to go 6-of-16 from the field with 12 points and 14 rebounds. That's not enough production from two All-Star caliber players.
Gortat has been the one Wizard that has struggled more than others. In his last five games the Polish Machine is averaging only 7.6 points and 7.0 rebounds on 45.7 percent shooting. Even his action figure giveaway and shaving of the Mohawk hasn't gotten the big man going. He is a huge part of Washington's success and when he's not confident and playing well, they have problems consistently winning.
This game has minimal scoring and neither team gained a huge advantage for an extended period of time. Charlotte led for most of the game as their largest lead grew to 12 points after coming out of halftime with a 10-0 run. However, the Wizards would respond with a run of their own but could never get over the top and keep a lead.
With 1:06 left in regulation, the Wizards were down eight points. With a Paul Pierce jumper and an and-one finish by John Wall, Washington cut the lead to three points with 21 seconds left in the game. The Wizards executed the inbounds play that gave Wall an open layup, but the All-Star rimmed out the easy finish which essentially ended Washington's chance of completing the comeback.
Washington's body language all night showed fatigue and frustration. They are also lacking confidence which is leading to poor starts to games and lackluster defensive efforts. Give credit to the Hornets who played a very solid game from start to finish.
Charlotte's next game is against these same Wizards on Thursday night at 7:00 PM EST at the Time Warner Cable Arena. Before Washington plays the Hornets again, they have to travel to Atlanta to face the Hawks at 7:30 PM EST.