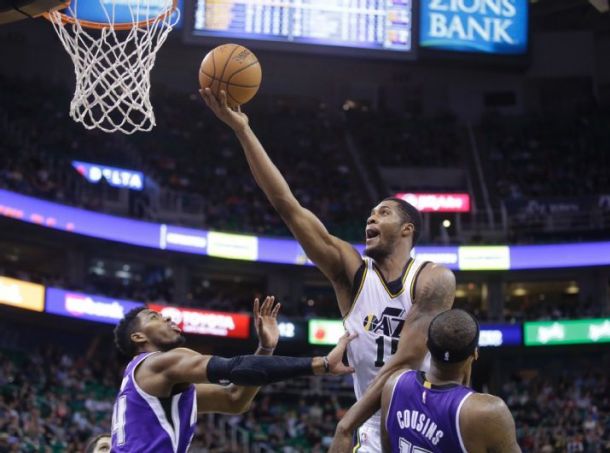 The Utah Jazz finally won a game when they beat the Sacramento Kings on Saturday night. The Jazz came into this game on a three-game losing streak. The Kings were no different, as they looked for their second win in the last six games.
Gordon Hayward scored 30 points for the Jazz, while Enes Kanter had a 17-point, 13-rebound double-double. Derrick Favors poured in another 20 points. For the Kings, DeMarcus Cousins scored 27 points and snatched 10 rebounds. Rudy Gay added just four points in 29 minutes.
The Jazz dominated the game right from the start, outscoring the Kings, 25-15, in the first quarter. Gordon Hayward scored nine points in the first period, gaining some momentum.
Both teams scored 24 points each in the second quarter. The Kings looked for a comeback, as Cousins had 15 points at the halftime whistle. Utah still led the Kings, 49-39
Utah started the third period on an 8-0 run. They led by 23 points in the middle of the third. The Kings were quick to fire back and cut the lead short to 14 points at the end of the period.
The fourth quarter was a back and forth affair. The Jazz finally ended up winning the game by 12 points.
Rudy Gay was cold all night as he scored all four of his points in the first half and shot 1 of 8 from the field. Kings rookie Nik Stauskas was given 11 minutes of play but ended up with zero points. His counterpart, Dante Exum scored five points and dished out four assists in 33 minutes.
The Utah Jazz improved to a 18-33 record in the Western Conference, while the Sacramento Kings now have a 17-32 record. The Jazz and Kings are seeded 12th and 13th, respectively, in the West.
The Kings will look to improve their record, as they play the Phoenix Suns at home tomorrow, February 8th. The Jazz will take on the New Orleans Pelicans in an away game on Monday.