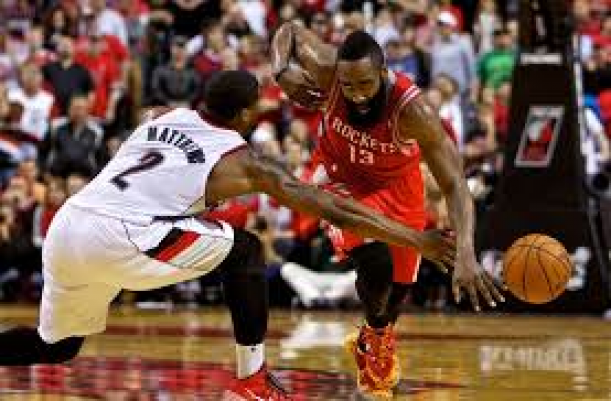 Something is off with this Portland Trail Blazers team; they do not look the same as they did during their first 25 games. Guard Damien Lillard and forward Lamarcus Aldridge are still producing at All-Star levels, and guard Wesley Matthews is playing his role of outside shooter perfectly. Center Robin Lopez just returned from injury, and although he does not put up major stats, his presence in the paint positively affects Portland's defense. The last player remaining is forward Nicolas Batum.
Batum's numbers are down from the past few seasons in all categories. On Saturday, he shot 0 for 8 and scored just two points in 42 minutes of action against the Dallas Mavericks. So far this season, he is shooting 27% from beyond the arc, an unacceptably low number for a member of the Blazers, a team that relies primarily on their three-point shooting.
Portland faces the Houston Rockets tonight, and Houston is without star big man center Dwight Howard. He is sidelined for a few more weeks due to a knee injury. Donatas Motiejunas, as a result, has picked up some extra minutes and is using them wisely. He has scored double digit points in his last four games and is averaging six rebounds per game.
Of course, the one thing all teams must do when playing the Rockets is shut down guard James Harden. Harden is playing at MVP levels right now, and after Portland knocked Houston out of the playoffs last year in devastating fashion, he is not going play lightheartedly. The outcome of this game comes down to how well Matthews and/or Batum can guard him. The last time these two teams met, Houston won in a big way, and Harden was the reason behind this. He had 44 points and 7 assists, just ridiculous overall stats.
One way Portland can counter Harden's unruly scoring is bench play. Houston's bench is solid, led by newly acquired Josh Smith and Corey Brewer. Veterans like Steve Blake and Chris Kaman need to help their fellow bench mates keep up with the Rockets. If the starters can come back onto the floor with either a close game or a lead, Portland could be in good shape to win.