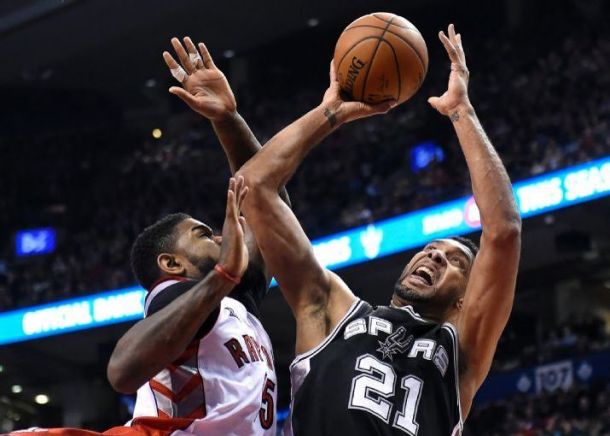 Gregg Popovich will have to wait another game to get his 1,000th career win. The Spurs shot one of their worst shooting performance of the season Sunday night shooting 33% as they dropped to the Raptors 87-82. James Johnson scored 20 and DeMar DeRozan added 18 as the Raptors used a really balanced effort in scoring to get a grind-out win.
"Poor execution and a bad night," said Manu Ginobili. "A bad combination."
"To hold a team like that to their season low is admirable," Raptors coach Dwane Casey said. "It shows how we have to play at grind it out."
Amir Johnson had 15 points and Lowry added 12. Toronto is now 8-2 against the Western Conference teams.
The Spurs shooting this poorly is very rare. Their philosophy is ball-movement for good shots, and by getting good-shots you generally shoot well. This was one of the rare nights that they couldn't complete nearly anything. "We're not trying to win for one person or another, we're trying to better our team and end strong (before the All-Star break)," Duncan said. The Spurs missed 16 of their final 17 shots.
The Spurs will Play Indiana on Monday on the road. Currently they are .500 on the road (12-12) so they'll be looking to get above that mark before All-Star Weekend. The Raptors will play at home against the Wizards on Wednesday which will be a huge game for both teams as they compete to try to get to the head of the Eastern Conference.