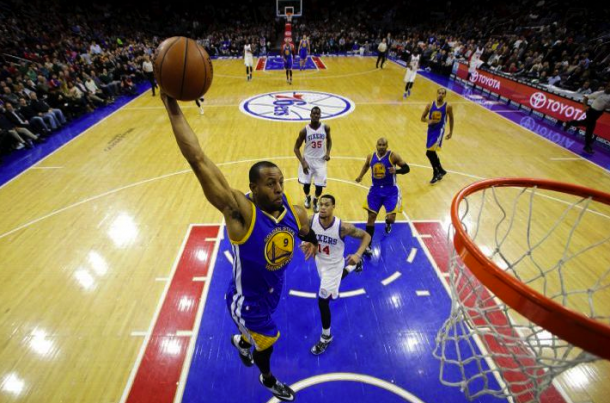 The Warriors, in a somewhat bizarre way, handeled business Monday evening on the road against the Philadelphia 76ers. Behind Curry's 20, Klay Thompson and ex-76er Andre Iguodala's 13, the Warriors downed the Sixers putting them at a 12-41 record.
The Warriors had a bizarre off-night of shooting, shooting 40% from the field and only 24% from three. If there was any night to have an off-night, it would be against the 76ers if the team had to choose. Golden State forced 27 Sixer turnovers led to 35 points. The Warriors only had 14 turnovers.
This win gives the Warriors a clinch for an above .500 record for the year. Their 32 games over .500 is also the most since the 1975-1976 season.
The Sixers led for a good portion of the game, but Mareese Speights helped lead a 16-2 run in the fourth quarter to really seal the deal for Golden State. According to GSW Stats, Curry has had 20+ points in 9-straight games, which is a tie for his 3rd-longest streak in his career.
The Warriors will play the Timberwolves on Wednesday night before the All-Star break. It's a critical break for them, with having an opportunity of going into All-Star weekend with less than 10 losses. If the Warriors shoot porly against the T-Wolves than the break will be needed so that they can rest up. Their offense has a lot of movement and it should be clear they need a bit of a rest.