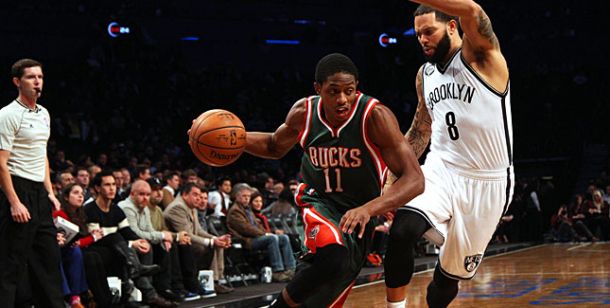 The last time the Milwaukee Bucks and Brooklyn Nets met against each other, a winner would not be declared until a third overtime period. Tonight, Milwaukee was able to get a win in regulation after picking up the slack from the first half.
After getting blown out by the Washington Wizards on Saturday night, Brooklyn came out shooting the lights out. They shot 71 percent during the first 12 minutes of the game and were up, 30-24. Jarrett Jack started the game, putting up 10 points while being 100 percent from the floor. The Nets were also doing a good job of moving the ball around, as they had all but two of their field goals assisted on.
In the second frame, the Bucks started to climb closer within reach as they had a 12-2 run during the 4:06 mark. Brooklyn's turnovers piled up, as they took only a five-point lead into halftime. Milwaukee's field goal percentage continued to fall, as it was down to 33 percent after the first two quarters. Their 25 boards and five steals were a major help that made the game remain within reach.
The road to comeback continued for the Bucks, as they were able to tie the game at the 10:13 mark of the third period. Brooklyn scored their final field goal of the quarter by the 5:48 mark as they were outscored, 32-16, and trailed by 11 going into the final 12 minutes of the game.
Khris Middleton was a major reason why the Bucks made a comeback, as he scored 12 third quarter points. Brooklyn played well in the final period of the game as they put up 29 points. That was not enough to get back on top, however, as Milwaukee did a good job of protecting their lead.
The Nets concluded the game with 15 turnovers while the opposing team had 14 steals. Jack ended up being the game's highest scorer with 26 points. Joe Johnson contributed with 19. Deron Williams was questionable going into this game, and it seemed his illness was having a strong effect on him. He went 0-for-5 from the floor, as he finished with four turnovers while logging in 22 minutes.
Jared Dudley led the way for the Bucks as he put up 19 points while being 5 of 5 from the three-point arc. Giannis Antetekounmpo, who will be featured in the Sprite Slam Dunk Contest this weekend alongside Mason Plumlee, put up a solid all-around game with 12 points, nine boards, and eight assists.
The schedule won't get any easier for Brooklyn, as they will match up against the Memphis Grizzlies tomorrow, February 10th. For the Bucks, they will face the Sacramento Kings on Wednesday, February 11th.