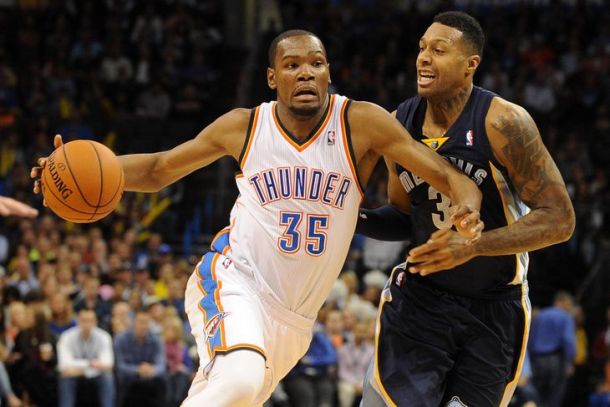 Last year, these two teams were in opposite positions. It was Memphis clawing for a playoff spot and OKC that was flirting with home court advantage throughout the playoffs. The difference a year makes. These teams will square off for what feels like the 100th time in the last four years. It was a seven-game struggle that Oklahoma City ultimately pulled out before falling to Dallas in the Western Conference Finals four years ago. Then two years later, the Thunder lost to the Grizzlies in five games without Russell Westbrook, all of which went down to the final minutes. Last year, it was an opening round heavy weight fight that featured four straight overtime games, a Game 7 suspension, and more four-point plays than one could imagine. This is the Thunder/Grizzlies matchup.
Even earlier this year without Kevin Durant and Russell Westbrook, the Thunder had a chance to beat Memphis if Serge Ibaka could've hit a straightaway three at the buzzer. These games are almost always close.
Having watched almost every Thunder game for several years now, there's a couple of givens. When Golden State and OKC play, take the over. Both of those teams are really good defensively, but something about having Kevin Durant, Stephen Curry, Russell Westbrook, and Klay Thomspon on the floor brings out the best in them. Fireworks, and lots of them.
When they play the Rockets, expect some jawing and a few technicals. Expect to beat the Spurs in the regular season. Expect to lose to LeBron James. And when playing Memphis, expect the unexpected. These teams know the other's system better than anyone. Memphis turns OKC into what it truly is - defensively dependent and tough shot makers. The Thunder turns Memphis into what it is - less athletic than most teams, and incredibly physical.
The length and athleticism of the Thunder and the tough rugged early 2000's style of play the Grizzlies play with makes for an intriguing matchup that scares any Thunder fan. Ask a Thunder fan if he or she would rather play Memphis or Golden State in round one and there won't be a definitive answer. Most might actually say Golden State, because at least with the Warriors, there's room to breathe.
You can expect a close game, but the Thunder really needs this game. Going into the All Star break at 28-25, potentially tied with Phoenix and New Orleans in the loss column, riding a three-game winning streak and winning five out of six is a lot better than the buzz kill that could take place if the Grizzlies win in the Peake tonight.
Memphis, on the other hand, would really like home court advantage. They may be the only team with a chance at catching Golden State, and you know they would love to keep the Thunder out of the playoffs if they can. It's going to be a fun one, or at least, a close one.