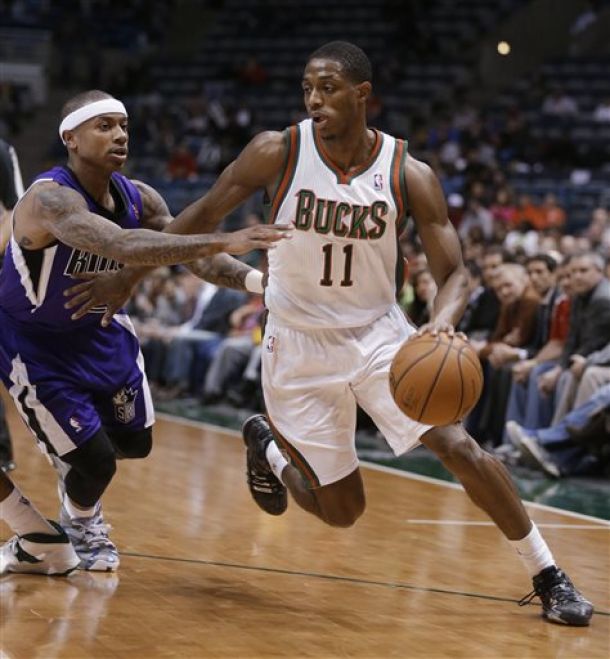 In its last game on Monday night, Milwaukee had a poor shooting first half but outscored the Nets, 32-16, in the third and rallied from a 17-point deficit to beat the Brooklyn Nets, 103-97, for its fifth straight home win. Jared Dudley led the Bucks with 19 points and hit all five of his threes while Khris Middleton scored 18, and O.J. Mayo added 15 off the bench.
Eastern Conference Player of the Week Giannis Antetokounmpo, who has averaged 19.5 points and 11 rebounds in his previous four games, almost registered a triple-double with 12 points, nine rebounds, and eight assists.
For the Nets, Jarrett Jack finished with 26 points on 10-of-15 shooting, while Joe Johnson scored 19 points and totaled six assists.
Meanwhile, the Sacramento Kings were in action on Tuesday against the Chicago Bulls and were soundly defeated, 104-86, as power forward Pau Gasol continued his solid play with 26 points on 11-of-15 shooting and 16 rebounds. It was Gasol's 13th consecutive double-double and NBA-best 34th of the season.
Also, Tony Snell was 9 for 11 from the field, including 4 for 6 on three-pointers for a career-high 24 points, and Derrick Rose added 23 as Chicago (33-20) won its third straight.
The Kings (18-33) have dropped 12 of 14. Rudy Gay led Sacramento with 24 points on 10-of-18 shooting, while DeMarcus Cousins added 15 points and eight rebounds, though he struggled as he shot 5-of-15 from the field.
In their first game against each other on December 18, Cousins returned to the Kings lineup after missing the last 10 games due to viral meningitis, and posted game-highs of 27 points and 11 rebounds, but it wasn't enough to stop the Bucks. Milwaukee held off Sacramento, 108-107, at the Sleep Train Arena.
Down by 10, 101-91, with 6:41 left in the fourth, Sacramento used a 14-4 run to tie the game, 105-105, with 1:01 remaining. After Pachulia made a free throw with 6.8 seconds left, the Kings had one last chance, but Cousins missed a jumper at the buzzer.
McLemore finished with 22 points, and Rudy Gay recorded 20 points, nine rebounds, and six assists. Darren Collison had 15 points, five assists, and three steals.
For Milwaukee, Brandon Knight scored a team-high 20 points. Four other Bucks scored in double-figures - O.J. Mayo (19), Jared Dudley (19), Jerryd Bayless (17), Giannis Antetokounmpo (11).
The Kings out-rebounded (35 to 27) and outshot the Bucks (.567 to .493) from the field, but turned the ball over 21 times, leading to 17 points for the Bucks.
The matchup to watch is the Bucks frontcourt taking on Cousins, who ranks third in rebounds and is tied for sixth in points. He had a big game against the Bucks in the first meeting, and the Bucks are undersized and rank 25th in rebounds.
The Kings are a decent shooting team (16th overall) but rank 25th in three-point percentage, which bodes well for Milwaukee as its one of the top defensive squads in opponents field goal percentage (4th) and three-point defense (3rd).